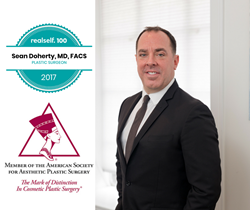 BOSTON (PRWEB) May 17, 2018
The Boston Center for Facial Rejuvenation is excited to announce that their own, Sean Doherty, MD, was recently named as part of the 2017 RealSelf 100. Out of the more than 20,000 member physicians using RealSelf, less than 1% make the top 100. This marks the first time that Dr. Doherty has achieved RealSelf 100 status.
Since emerging on the aesthetic scene in 2012, RealSelf has become the number one destination for consumer information on plastic and cosmetic treatments. RealSelf offers detailed information on a variety of aesthetic techniques. These include breast augmentation, abdominoplasty, and rhinoplasty, as well as nonsurgical techniques like Botox and dermal fillers. Along with procedure information, RealSelf includes thousands of before/after pictures, patient testimonials, videos and doctor reviews.
With over 9 million unique views every month, RealSelf offers one of the most extensive forums for cosmetic surgery and noninvasive techniques. The site is driven through the participation of the nation's leading physicians in plastic and cosmetic surgery, dermatology, otolaryngology and cosmetic dentistry.
The RealSelf 100 is a small group of doctors, dedicating their own time to answer questions from consumers across the United States and abroad. Last year, this set of 100 dedicated doctors collectively answered more than 100,000 questions and consumer comments. It is this dedication that makes RealSelf a valuable tool for consumers.
Marking the 8th year for the RealSelf 100, CEO Tom Seery is excited to see the amount of physician involvement, each deeply committed to patient education. He explains, "The RealSelf 100 recognizes committed medical professionals who are leading the way to help educate and empower consumers to make smarter decisions about aesthetic treatments." Seery then continues, "RealSelf 100 honorees are among the most engaged doctors on RealSelf — they represent less than one percent of the 20,000 medical professionals in our community yet collectively contributed 100,000 answers to consumer questions last year."
Earning his spot in the RealSelf 100, Dr. Doherty has an impressive 5-star rating, with 47 patient reviews. He has shared more than 60 successful before/after photographs, as well as 28 informative videos ton the site. To date, he has answered more than 2,000 consumer questions for RealSelf.
ABOUT THE BOSTON CENTER FOR FACIAL REJUVENATION
The Boston Center for Facial Rejuvenation is one of New England's top aesthetic plastic surgery practices, offering a variety of surgical and noninvasive techniques. Working with practice founder, Leonard Miller, MD, Dr. Doherty is known for bringing more than a decade of experience to the office. Board certified by the American Board of Plastic Surgeons, Dr. Doherty's practice focuses on innovative techniques for the breast and body. As Medical Director and Principal Investigator for Cynosure, Dr. Doherty is committed to discovering the latest, cutting-edge aesthetic procedures for men and women.
For additional information on the 2017 RealSelf 100, or to schedule a private consultation with Dr. Doherty, contact the Boston Center for Facial Rejuvenation at 617.735.8735, or fill out the online Contact Us form. For patient convenience, Dr. Doherty sees patients at both the Boston and the Brookline office.