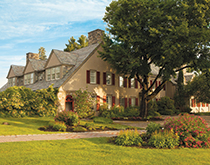 When you come to Glenholme — the energy, the people — you just know it's a place for your child. ~A Glenholme parent
WASHINGTON, Conn. (PRWEB) May 16, 2018
The Glenholme School blossomed with the excitement of Parents' Weekend, one of the school's central fundraising events to advance programming. Unlike traditional Parents' Weekends, this event invites parents to connect with other families having similar challenges and offers time with their child to bond in a positive and therapeutic environment while enjoying a full day of the school customs. This year the school highlighted its 50th anniversary and the accomplishments of helping thousands of students with learning and social differences to meet the school's vision, "A meaningful life for all people."
Parents' Weekend began in spectacular fashion on Friday, May 3, with an impressive student choral performance delivering decades of celebratory songs, many from the recent musical, "Music Man, Jr." Saturday was a full day of engaging through the various aspects of student life on campus including equestrian riding, karaoke, and improvisation, along with musical performances at The Center for the Arts. Morning and afternoon delivered added exhilaration with traditional parents vs. students sporting events — first the morning basketball game and then the day-ending softball game.
Excitement-seekers had their fill of action with the silent and live auctions, in which bidders competed enthusiastically for a dazzling array of trips, event, and phenomenal opportunities. Evening auction-goers also held their paddles high to support the Maryann Campbell Staff Continuing Education Fund.
Recognitions were also made during the evening. Eight essential faculty members were recognized as Glenholme Luminaries of 2018 for their compassionate contributions to students and families. Three long-time devoted parents were honored for their unwavering support and exemplary commitment to the school and its mission.
The Glenholme School deeply appreciates the dedication of the many supporters throughout the year and on Parents' Weekend. As the result of the fundraiser are being tallied, the school moves closer to fulfilling its fundraising goal for the year. If you would like to contribute to The Glenholme School and help the school meet the challenges of the next half-century, go to bidpal.net/glenholme50th/welcome.
About The Glenholme School:
Devereux Advanced Behavioral Health— The Glenholme School is an independent, coeducational, special needs boarding school for young people with high functioning autism spectrum disorders, ADHD, OCD, Tourette, depression, anxiety, and various learning differences. The program provides a treatment milieu designed to build competence socially and academically. Our learning environment supports and enhances the ability of young people with special needs to succeed. Devereux Advanced Behavioral Health is a leading nonprofit behavioral health organization that supports many of the most underserved and vulnerable members of our communities. For more information about The Glenholme School and its program, visit http://www.theglenholmeschool.org.