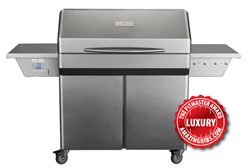 BLOOMINGTON, Minn. (PRWEB) May 16, 2018
Memphis Wood Fire Grills, the world's leading manufacturer of high-end wood pellet grills, is excited to accept their latest award. The world's largest and most popular outdoor cooking resource, Amazingribs.com, has awarded the Memphis Elite grill the 2018 Pitmaster Award for Best Luxury Smoker just in time for grilling season.
This is the fourth year that the Memphis Elite Pellet Grill has landed itself on the Amazingribs.com Best Luxury Grills & Smokers list. Memphis Wood Fire Grills is honored to be recognized by Meathead Goldwyn, creator of AmazingRibs.com, who proclaimed that the grill is "one of the best cookers I've ever had the pleasure to use."
"We are once again, very honored, to be selected by AmazingRibs.com as the Best Luxury Smoker for 2018. As a leading resource for BBQ and grilling product reviews, recipes and all things BBQ, we appreciate the recognition of our quality pellet grills made here in the U.S.A," states Sharla Wagy, GM Memphis Grills. Wagy continues, "In addition to our grill cart versions, Memphis Grills is the only line of built-in pellet grills, performing at temperatures from 180 to 700 degrees, and allowing the most flexibility of any grill on the market today. This flexibility allows grill masters to do everything from smoking a brisket to searing steaks, as well roasting a turkey or baking bread."
First introducing a line of high-end pellet grills in 2010, Memphis Wood Fire Grills is a premium pellet grill brand with an international presence in the United States, Canada, and Europe. At Memphis, we strive for versatility and a superior outdoor cooking experience. Referred to as the "Tesla of Pellet Grills" by author and PBS Host Steven Raichlen, Memphis Grills combine professional cooking equipment with the Intelligent Temperature Control WiFi system to create the ultimate grill that cooks, smokes, sears, and bakes.