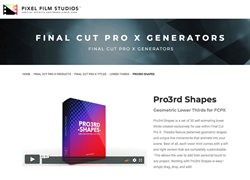 "Incorporate a unique artistic twist to each project with these stylish lower thirds for FCPX."
ALISO VIEJO, Calif. (PRWEB) May 16, 2018
Pro3rd Shapes is a set of 30 self-animating lower thirds created exclusively for use within Final Cut Pro X. Presets feature patterned geometric shapes and unique line movements that animate into your scene. Best of all, each lower third comes with a left and right version that are completely customizable. This allows the user to add a personal touch to a project. Working with Pro3rd Shapes is easy– simply drag, drop, and edit!
Pro3rd Shapes features 30 self-animating presets with both simplistic and abstract shape designs. Pick from a large number of shape styles that feature both a left aligned and right aligned option for each preset.
Pro3rd Shapes reveals text using a vast array of different shape designs. Adjust color, scale, blend modes, and much more to fit each shape into a scene. Change each shape to fit any desired length of text for a clean and slick look.
Pro3rd Shapes features on-screen controls that enable the user to scale, position, and rotate presets in Final Cut Pro X. Drag the center control to reposition the lower third and use the handle to rotate on the Z axis. Adjust presets without worry of affecting resolution or animation style. With the on-screen controls, users can freely manipulate each preset.
Created for use within Final Cut Pro X, Pro3rd Shapes comes fully packaged! Pixel's self-animating lower thirds require no keyframes and no hassles. Simply drag a preset from the library and drop it into the FCPX timeline and begin editing.
Established in 2006, Aliso Viejo, California-based Pixel Film Studios is an innovative developer of visual effects tools for the post-production and broadcast community. Their products are integrated with popular non-linear editing and compositing products from Apple FCPX. Apple, the Apple logo, Mac OS X, and Macintosh are registered trademarks of Apple Inc. in the U.S. and/or other countries. All other trademarks and trade names are the property of their respective owners.