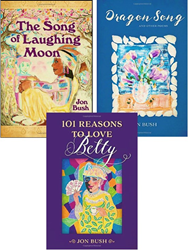 "'The Song of Laughing Moon' is a tight, inventive novel, not unlike the works of Robert Louis Stevenson, in which gripping action and adventure is artfully balanced with complex character and moral depth. - Charles Asher, reviewer
BELMONT, Mass. (PRWEB) May 16, 2018
With each book he writes, Jon Bush shows a completely different aspect of his talent and range. He has penned two novels, one dramatic and one a comedy, plus a book of illustrated poetry.
They call themselves the First People; whites call them Indians. In the life-affirming tale "The Song of Laughing Moon," two brave young orphans, Laughing Moon and Thinking Owl, are caught up in the turmoil of the transcontinental railroad crossing near their orphanage in the sacred land of the First People. This universal story of love, human endurance, and spiritual awakening will enchant.
"For the purpose of weaving my story, I have fictionalized that there was a tribe of Navaho people in Nebraska in the 1860s. In fact, it seems unlikely. I was simply looking for a place of peace within the turmoil all around the great railroad coming through the land of the First People," explains the author.
Following the Civil War, Native Americans had to survive the invasion of robbers, killers, and miners seeking gold at any cost. But with the bad, came the good. Holy men, settlers with their families, and workers also flooded the West seeking their dream.
Finding gold and riches was an empty dream for most. True happiness comes from friendship and from love. That is the way of the First People.
"'The Song of Laughing Moon' is a tight, inventive novel, not unlike the works of Robert Louis Stevenson, in which gripping action and adventure is artfully balanced with complex character and moral depth … an exciting and meaningful read. I highly recommend it." – Charles Asher, reviewer
"Jon Bush brings us Native American lore as richly as any writer." – Grady Harp, reviewer
The author presents his volume of illustrated poetry "Dragon Song: And Other Poems" as an entryway into his "perceptions of feelings and observations of how he interacts with others, and in doing so, he shines a Diogenes lantern to our inner responses," says reviewer Grady Harp. "Pause with this book of light and let Jon Bush offer an alternative way of viewing this bizarre world. Absorbing it will make you better."
Having worked with the homeless, Bush believes the greatest gift comes from the wonderful joy of giving.
"Although I am dressed in pedestrian drab
And support an aging slump
My spirit soars and dives, through brilliant sun-struck skies
Like a graceful hawk, swooping down to her prey,
As I play today.
And we are all but actors on a stage
With songs to air, and poetry.
Rainbow eyes, and half-hidden smiles
Revealing love in her truest guise.
In my mind I am so free
Delighting in the symphony of life
The twists and turns fascinate me
As I savor each passing moment, not lonely, just fine."
"'Dragon Song: And Other Poems' is a stirring collection of lyrical meditations, a subtle and resplendent anthology of author Jon Bush's elegiac work that brings the reader into the intimate mind of the poet and, at the same time, sets them on a journey across eternal and universal themes … a haunting collection of musings, meditations, and elegies that is sure to inspire great introspection and larger, universal contemplation." – M. Dixon, reviewer
One Amazon reviewer writes that the poems "are moving and poignant as well as lighthearted and funny. In reading the entire collection, one gets to know the poet as a thoughtful, creative soul who shares both his pain and vulnerability and his hopefulness and joy."
The title says it all. There are "101 Reasons to Love Betty!" This humorous collection of vignettes paints a colorful portrait of Betty, a truly edgy, outrageous, and loveable woman.
Reviewer Charles Asher writes, "'101 Reasons to Love Betty' is a delightfully charming collection that chronicles the misadventures of the titular hero, Betty, a wild and loveable woman who is sure to wriggle her way into readers' hearts with winks, nods, charming shock, and lots of laughs. There is an irreverence to each vignette, a strange set of circumstances and bewildering actions filled with wit and fiery independence, and yet, author Jon Bush clearly holds a reverence for Betty herself – amidst all the folly and absurdity lies a truly arresting character, a woman of will and passion who demands our respect through her very originality … skillfully written, crafting a madcap but believable world filled with lush details … The pacing and comic timing is spot on here, playing with expectations as we root for Betty at every turn. A truly charming book, sure to delight any reader."
This zany collection of anecdotes will make readers laugh, shake their heads, and even gasp in shock at the outrageous craziness. But in the end, everyone will love Betty just as much as the author.
About the Author: Born in Boston and raised in Cambridge, Massachusetts, Jon Bush has worked most of his life as a chef. His favorite job was cooking restaurant-quality lunches for mentally ill and homeless people at a drop-in center. He found the people there had great insight into life. He currently resides in Belmont, Massachusetts.
The intriguing books THE SONG OF LAUGHING MOON (ISBN: 978-1-597151-29-0, $14.95); DRAGON SONG: AND OTHER POEMS (ISBN: 978-1-597151-60-3, $10); and 101 REASONS TO LOVE BETTY (ISBN: 978-1-597151-67-2, $10) can be ordered through the publisher Chapel Hill Press, Inc.'s website: http://www.chapelhillpress.com or at Amazon.com or Barnesandnoble.com.