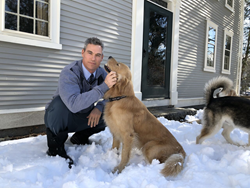 Mr. Cunningham intends to tax polluters, tighten regulations, and subsidize infrastructural investments.
MAUI, Hawaii (PRWEB) May 15, 2018
The American government is currently abandoning its responsibility to the American citizens to guarantee their right to life. Despite the fact that 70% of Americans support US participation in the Paris Agreement, President Trump decided on June 1, 2017, that America would exit the pact, and forge ahead as the sole country in the entire world not to be a part of this last-ditch effort to mitigate climate change and save humanity.
By now, the global scientific community has stated many times that gas emissions are fueling the current greenhouse warming across our planet. To fight this life-threatening hazard, America must leverage its world-dominating power, join the international effort, and make changes to energy consumption and infrastructure.
In a recent video release from the quickly growing 2020 Hart Cunningham presidential campaign, Mr. Cunningham stated his "number one priority as President of the United States in 2020" will be to curb climate change. Mr. Cunningham is joined in his concern over global warming by the Intergovernmental Panel on Climate Change (IPCC), the Union of Concerned Scientists, and more than half of all Americans.
The Problem: Per Capita Emissions are Too High
Compared with world's other developed and rapidly emerging powers, America's per capita carbon dioxide emissions (15.83 metric) is third highest in the world. That is well over two times China's per capita CO2 emissions (6.59 metric tons), more than 1.5 times that of Germany (8.93 metric tons), and nearly 1.5 times that of Russia (10.19 metric tons).
The Cunningham Administration will deploy a simple, two-pronged approach to rapidly slow and reverse greenhouse gas levels.
Solution #1: Shift to 100% Electricity
Everything "from cars to heating" must be shifted away from gas to electricity. Once that is accomplished, the federal government will commit "funding to power grid infrastructure upgrades, as well as additional sustainability research and development."
The Cunningham Administration plans to utilize a "state of emergency" approach to bypass bureaucratic processes too slow to effect change in time. Mr. Cunningham intends to tax polluters, tighten regulations, and subsidize infrastructural investments.
Solution #2: Grow a New Economy - Sink CO2 into the Ground
Critics of a shift from coal, oil, and natural gas to electric claim it will ruin America economically. President Trump stated that the Paris Agreement would put the United States at a "permanent disadvantage."
Quite the contrary, this endeavor to "sink" CO2 on a massive scale will provide unemployed coal workers and the failing coal industry with the opportunity to pivot. The Cunningham Administration will create an economic environment that encourages critical, innovative technologies that capture and break down to use as liquid fuel.
A healthier energy policy will involve the first-ever large-scale deployments of bioenergy with carbon capture and storage (BECCS), the method advocated by the United Nations' IPCC. BECCS produces energy by using technology similar to coal-fired power plants and is also capable of removing CO2 from the atmosphere.
Stopping Climate Change is Possible
What has long been recognized as critical to humanity's survival is swiftly becoming a priority for the United States. If 2020 does indeed usher in a Cunningham Administration, the United States can continue leading the world, and stop climate change before it is too late.
About Hart Cunningham - #Hart2020
Hart Cunningham is running for the presidency in 2020 in the hopes of helping the world overcome struggles due to capitalism, unsustainable economic and environmental practices, and a lack of equality. After being a successful businessman for many years, Cunningham turned his attention to humanitarian work and to bringing awareness to these issues. Originally from the south, he's made his roots in California and has a deep understanding of democratic and republican politics and ideals. True to his name, Hart Cunningham wants to bring the heart back into politics in America and believes that poverty and climate change must be solved for the greater good of our world. Volunteer or contribute to his campaign by visiting, http://hart2020.org.
Follow Hart Cunningham on Social Media
Twitter: https://www.twitter.com/HCfor2020
Facebook: https://www.facebook.com/HartCunningham2020