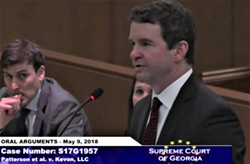 Some of the most complicated issues in our legal system involve the use of circumstantial evidence.
ATLANTA (PRWEB) May 15, 2018
Experienced litigator, Blake Frye, recently appeared in front of the highest court in Georgia during its May 9th oral argument docket. (Joshua Patterson and Taylor Patterson v. Kevon, LLC, No: S17C1957) Frye's case involves clients who became sick after eating food allegedly prepared by the defendant at a wedding rehearsal dinner. The oral argument, which lasted approximately forty-five minutes, revolved around the use of circumstantial evidence and its impact on summary judgment rulings.
(For a video clip of Frye's argument to the Court, please click here.)
During the proceedings, Frye answered questions from multiple Justices related to the relevance of prior court rulings as well as scope of potential outcomes in his current case. Frye believes the legal issues being presented to the Court are important not only for his client, but also for the cases that will be litigated throughout Georgia courts in the future.
"Some of the most complicated issues in our legal system involve the use of circumstantial evidence," said Frye. "I believe the Supreme Court is taking a careful look at all the issues presented and am satisfied that our team was able to prepare and put forth a strong position for our client."
Frye's law partner and firm co-founder, Doug Kertscher, watched video footage of his colleague's argument to the Court and was impressed by the way Frye handled challenging questions from the Justices. "Blake brings a powerful combination of experience, preparation, and passion to our clients' cases, and performed very well in what many lawyers find to be a stressful situation," said Kertscher. "We are looking forward to the final ruling in the case and seeing our clients receive justice for their injuries."
The Supreme Court of Georgia is expected to issue a ruling in the case within five months.
About Hill, Kertscher & Wharton, LLP: Nationally recognized for its representation of businesses and individuals, HKW's litigation team is known for taking cases as far as necessary to obtain justice. The firm is AV Rated by Martindale-Hubbell and is also recognized by Best Law Firms in America.