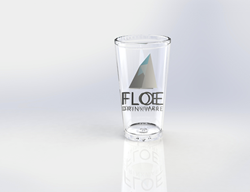 After my dad said 'I wish someone could invent a glass that fixed this.' I realized that, actually, I had the background as a mechanical engineer to actually do something.
BATON ROUGE, La. (PRWEB) May 15, 2018
FLOE, the revolutionary new glass that can keep drinks colder for 60% longer than standard glass, is live on global crowdfunding platform Kickstarter and raising funds to bring the project to life.
Right on time for summer, the FLOE is a breakthrough glass that lets users keep their drinks cold for hours at a time. Whether water, beer or soda and no matter if enjoying indoors or outdoors at a festival, the FLOE is the perfect companion for beating the heat.
"The inspiration behind this project came, initially, from a dinner I had with my family at a restaurant in Baton Rouge. We noticed that our drinks were getting warm and our hands were clammy from the condensation," says founder and CEO Sean King. "After my dad said 'I wish someone could invent a glass that fixed this.' I realized that, actually, I had the background as a mechanical engineer to actually do something. This, in combination with a letter I received from the local water company in Claremore, OK, that stated our water was not fully adherent to U.S. standards, provided the initial foundation for FLOE."
The FLOE is a patent-pending product that uses a method similar to double paned windows to reduce how fast heat can penetrate into a beverage. The product has been backed by extensive testing which has already shown incredible results. During a test at room temperature to measure how long ice would stay solid without completely melting, the regular glass lasted approximately 60 minutes, while the FLOE glass took approximately 150 minutes. In both cases, the ice melted at around 6°C (43°F) which took roughly 150% longer to reach in the FLOE.
The company is currently 3D printing prototypes and testing them for comfort to ensure the perfect final design. With a successful crowdfunding funding injection molds will be purchased to ensure clear, high-quality products for the mass market.
In addition, for each purchase made through the company after the launch through Kickstarter, 15% of the price will be donated to international clean water initiatives. For the remainder of 2018, FLOE has chosen to work with the Flint Water Fund in Flint, MI, Appalachian coal country, and Puerto Rico.
"We hope bring the issue of U.S. water infrastructure into the national conversation, and to remind us about the ongoing daily struggles people in Flint, MI, Appalachia, and Puerto Rico, among many other locations, face just to have access to drinkable water," adds King. "Secondary to this, our product will help allow scores of breweries and restaurants across the country to save money and reduce their carbon footprint by eliminating the need for glass chillers."
FLOE is currently live and available to support on Kickstarter: https://kck.st/2IkY83e
About FLOE Drinkware
FLOE Drinkware is an industry-disrupting company that has developed a pint glass to increase the amount of time a drink can remain cool without the need for glass chilling. 15% of the sales price of every product goes to providing access to clean water but supporting local charities and research initiatives. The founder of the company worked as a mechanical engineering graduate student in aerospace design and the design of pods for the SpaceX Hyperloop; however, he felt that these skills could be better utilized designing products that provided benefits to underserved peoples in the U.S. and internationally.
For more information on FLOE, please visit: http://floe-drinkware.com
###