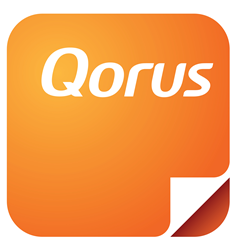 (PRWEB) May 15, 2018
Qorus Software, the company that helps organizations become more efficient when creating business critical documents, welcomes Washington DC-based MSP, Gryphon Consulting, to their reseller program.
Gryphon Consulting is a specialized IT services provider of computer hardware and software, with expertise in Microsoft Windows, Microsoft Server, and Microsoft Office. They also offer specialized data protection, technical support, VOIP services, and cloud computing solutions with a strong focus on the government sector.
"Gryphon Consulting has been excited to not only use Qorus to accelerate our business, but to partner with their sales team," says Frank Valdivieso, President and CEO of Gryphon Consulting. "Their team has been attentive, excited, and focused on ways to help our customers benefit from the Qorus features."
"I'm excited at the opportunity to work with Gryphon Consulting," says Michelle Revsbech, Senior Vice President of Alliances at Qorus. "They are a seasoned MSP deeply entrenched in the government vendor space. This is an exciting micro vertical for Qorus, and we look forward to expanding our reach in this area with Gryphon Consulting."
ABOUT GRYPHON CONSULTING LLC
Gryphon Consulting is a managed service provider of computer networks, applications, personal computers, and laptops with expertise in Microsoft Windows, Microsoft Windows Server, and Microsoft Office. We also assess, design, build, deploy, and manage networks. Our network support capabilities range from simple IT moves to remote network performance management.
To learn more about Gryphon Consulting, visit: http://www.gryphon-consulting.com
ABOUT QORUS
Qorus helps organizations create business critical documents more efficiently and accurately. Our software is incredibly powerful but highly intuitive and very easy to use. Even the most non-technical users can quickly create accurate, personalized and compliant documents like proposals, contracts, RFPs, pitches, and reports.
Qorus runs on Microsoft Azure and integrates with Microsoft Office to enhance document productivity.
Our award-winning Customer Success team ensures our customers across all industries get the most value from our software.
Qorus has offices in Seattle, London and Cape Town.
To learn more about the Qorus reseller program, visit: https://www.qorusdocs.com/qorus-partners
Learn more about Qorus at http://www.qorusdocs.com