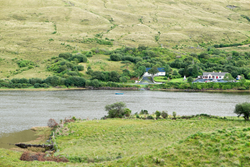 It's friendly, English-speaking and simple to navigate
BALTIMORE, Md. (PRWEB) May 15, 2018
On a bright, sunny day, Ireland is the most beautiful country in the world, according to International Living's editors. A land full of poetry and song on the edge of the Atlantic Ocean, it rains in Ireland—at any time of the day, at any time of the year. But the Irish weather is not something to endure. It's to be embraced.
"Ireland is arguably the easiest spot across the pond to wander for a summer. It's friendly, English-speaking, simple to navigate, and—when you know where you're going—offers good value as well," says Jennifer Stevens, Executive Editor of International Living.
"With long summer days before you, you have plenty of time to explore a culture rich with music, stories, and spectacular landscapes. Plus, it's a great jumping-off point for low-priced excursions to the continent."
This Atlantic weather has shaped the land and its people. It's the reason fields are emerald-green and hillsides blaze purple with heather. The weather improves from April and is usually at its best in June and July; Ireland is milder than other places on the same latitude, thanks to the Gulf Stream from the Caribbean. Summer temperatures average highs in the mid-60s F, and a temperature over 86 F is headline news.
Thanks to its northern latitude, the daylight stretches towards 11 p.m. during Ireland's summer months. There's a saying the locals have about the changeable weather, "If you don't like the weather in Ireland, wait 10 minutes. It'll change." A day that starts off wet can end up with dinner alfresco, like a scene from the Côte d'Azur.
Despite the onset of modernity, the Irish still take time to talk, and they're good at it. This may just be the friendliest country in Europe. And this year, the Land of a Thousand Welcomes, claims first place in the Fitting In category of International Living's Annual Global Retirement Index 2018.
"We have family and friends in Mexico who are very welcoming and know how to party, but nobody we have ever met can beat the Irish for warm hearts," says U.S. expat Michael Shepherd who lives in the County Clare market town of Ennis with his wife Karin. "In Ireland you learn not to ask directions to someplace you want to reach quickly, because anyone you ask wants to know your whole life history!"
One thing is sure, this island packs a lot into its small size. It's one of the most geologically diverse regions of the world for its size—the Copper Coast; the karst region of the Burren; domed limestone mountains covered with peat bog; cairn-topped granite peaks in the north; red sandstone crags in the southwest.
But the best thing about the country is its size. Ireland is small. This means the morning can be spent standing on top of Europe's highest sea cliffs or climbing into prehistoric tombs older than the pyramids and an afternoon on the beach or in a city museum. It takes only six hours or so to drive the length of the country—north to south. Less than four hours from the famed Cliffs of Moher, on the west coast, to a vast stretch of sandy beach close to the capital, Dublin, on the eastern seaboard.
Another major plus is its English-speaking population and its location. Ireland is an easy place get to, with direct flights from the U.S.—it makes for a convenient jumping-off point from which to explore Europe.
Low-cost airlines like Ryanair offer flights to the European mainland for as low as $30. Getting to Paris takes just an hour and 40 minutes from Dublin or Shannon airports and costs as little as $60 round trip. London, Rome, and Berlin are all on the doorstep for the price of a good meal and a bottle of wine.
In their new report, the editors at International Living divide the teddy-bear-shaped country into regions to pinpoint where exactly in Ireland is best to visit.
The West: Traditional Ireland
Ireland is a bit like a saucer, with mountains around the coast and low-lying plains in the middle. The most dramatic mountains are in the west—rich in folklore and fairy tales, topped with megalithic tombs, and their valleys peppered with mysterious black lakes.
Traditional culture is at its most obvious and intact along the west coast. Galway is a university town known throughout Ireland as a center for the arts. Boasting an attractive harbor and a promenade, the city has numerous summer festivals and plenty of venues and pubs, making it a perfect place to immerse yourself in Irish life.
One of the best times to enjoy "the City of the Tribes" is during the Galway Races (July 30-August 5) that attracts over 100,000 people, making the city's famous nightlife more vibrant than ever.
North of Galway City is wild Connemara. This is rugged lake country, a haven for fishermen and wannabe poets. And on the northern edge of Connemara is the thriving town of Westport, in County Mayo—a perfect base for striking out into the countryside, while still having the conveniences of a town.
South of Galway City is County Clare—the chosen home to many international expats…and home to the Burren—100 square miles of karst limestone landscape. A conquering English general once said of it, "There isn't a tree to hang a man, water to drown a man, nor soil to bury a man."
The West of Ireland is also the perfect spot to find love if you push the summer stint into September. Each year thousands of people head to the tiny town of Lisdoonvarna, in County Clare, for one of Europe's largest singles events: The Lisdoonvarna Matchmaking Festival.
The Southwest: Stunning Irish Scenery
Statistics show that a quarter of North American visitors to Ireland go to the southwest. It's easy to see why when the scenery is so stunning. This is where you can drive the 111-mile Ring of Kerry around the Iveragh Peninsula, see the Lakes of Killarney, hike through ancient oak and yew forests, and find as much history and culture as anywhere else on the island.
Kerry can be a little crowded during summer, so if a Ring of Kerry town is on your must-see list, try Kenmare. Its colorful, compact townscape attracts expats in search of a slower paced life.
Gaelic, although the official language, is not widely spoken in Ireland now, but there are still specially designated areas where it's used in daily life, known as gaeltachts. There are a number in the South—one close to the town of Dingle in County Kerry, in the Muskerry region of Cork, and in West Waterford.
Ireland is home to world-famous links golf courses like Waterville and Ballybunion in Kerry—these gems were carved out of ancient dune-land over a century ago.
Quiet Isles and a Lively European Capital
Ireland is awash with lush green fields—an ideal escape. But some extra peace and quiet can be found on an island off the coast—think the Aran Islands, Clare Island, and Skellig Islands to beat the summer crowds.
And of course, there's the capital, Dublin. Don't visit Ireland and miss it. The best museums are free. A trio not to miss are housed in the old palace of the Dukes of Leinster. The National History Museum has the preserved bodies of ancient Irish royalty found buried in bogs, hoards of Celtic gold, and Viking weapons. Around the corner, the Natural History Museum is an homage to Victorian-era collecting, and the National Gallery is the place to absorb Ireland's artistic heritage.
Across the globe, the "concept" of the Irish pub drives a healthy online market in shamrock-stenciled signage, portraits of James Joyce, and old whiskey advertisements. But a real Irish pub is a social institution, a place to slow down time and reflect upon anything with anyone. Ireland is the only place to drink cool black pints of Guinness in an actual Irish pub.
And the cost of living in Ireland can be a lot more affordable than you might think. In rural areas, rent on a two-bedroom property typically starts at less than $600 a month and utilities usually run about $100 a month.
More information on how to spend a summer in Ireland and a list of summer festivals can be found here: How to Spend Your Summer in Ireland
Editor's Note: Members of the media have permission to republish the article linked above once credit is given to Internationalliving.com
Further information, as well as interviews with expert authors for radio, TV or print, is available on request. Photos are also available.
For information about InternationalLiving.com content republishing, source material or to book an interview with one of our experts, contact PR Managing Editor, Marita Kelly, +001 667 312 3532, mkelly@internationalliving.com
Twitter: @inliving
Facebook: https://www.facebook.com/International.Living/
About International Living
Since 1979, Internationaliving.com has been the leading authority for anyone looking for global retirement or relocation opportunities. Through its monthly magazine and related e-letters, extensive website, podcasts, online bookstore, and events held around the world, InternationalLiving.com provides information and services to help its readers live better, travel farther, have more fun, save more money, and find better business opportunities when they expand their world beyond their own shores. InternationalLiving.com has more than 200 correspondents traveling the globe, investigating the best opportunities for travel, retirement, real estate, and investment.