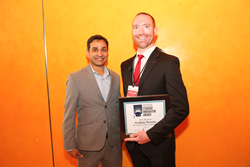 I came up with the idea for my first device by reading through the dry eye/warm compress literature for my masters degree project.
BOSTON (PRWEB) May 16, 2018
Graham Stetson, a third year student at New England College of Optometry (NECO), was recently chosen to receive the Rick Bay Foundation Student Innovator of the Year Award. The NECO student received the award together with additional groups and individual students from three other colleges of optometry. The award is named in honor of OD Rick Bay and highlights innovations by optometry students. The award originated at SUNY College of Optometry to inspire innovation and creativity for optometry students and was sponsored by Jobson and Essilor. The Student Innovator of the Year award has expanded to include additional sponsors and invites students from all optometric colleges to submit their ideas to improve the field of eye care.
This year, seven students were selected for the award from four optometry schools by four sponsors: VSP Global, VisionWeb, Luxottica, and Essilor. Stetson joined optometric students from Berkeley School of Optometry, Southern California College of Optometry and Suny College of Optometry at the awards ceremony in New York City in March. The ceremony took place at Vision Monday's 14th annual Global Leadership Summit.
Stetson was nominated for the award by NECO President Clifford Scott for two devices he developed and built. Stetson explains, "One device allows me to test the thermal transfer of the eyelid, in vivo, in real-time. The other device is a warm compress device that uses the information gathered from the first device to create a simpler, safer, more efficacious warm compress device for home use."
Stetson's award was sponsored by VisionWeb. He was chosen for his innovative iHeat eye mask. In developing his product, Stetson researched current eye masks to and refined his warm compress device to assist patients with both Meibomian gland dysfunction and dry eye.
Stetson says, "I came up with the idea for my first device by reading through the dry eye/warm compress literature for my masters degree project." Stetson is pursuing a dual OD/MS degree during his four years at NECO. He participated in the T35 Summer Research program and worked with mentor Dr. Amy Nau. Dr. Jane Gwiazda explains, "By participating in the T35 research program, these accomplished OD students experience hands-on research early in their academic careers, which leads many of them to obtain both an OD and MS degree in their four years at NECO. This early research exposure complements their clinical and didactic training, and helps to ensure that they will provide evidence-based eye care in the future."
Stetson has continued his research for his masters degree, noting, "Few of the published papers noted inner eyelid temperature with warm compresses, which is crucial when it comes to heating the meibomian gland secretions. Of those that noted inner eyelid temperature, none reported data in real-time, and all involved time consuming steps that compromised the data in my mind. My device allows for the application of a constant level of heat to the outer eyelids, through a customized control algorithm, and real-time monitoring of inner and outer eyelid temperature."
He continues, "Once I had come up with the design of my clinical testing device, I realized that it would be a reasonable next step to use a modified version of my device with the data I collected through my research to create a commercially saleable device that would be substantially better than any other at-home warm compress on the market." Stetson is now working to obtain IRB approval to do clinical trails and collect further data before streamlining the design of the microcontroller circuitry and product for commercial sales.
New England College of Optometry continues to support Stetson's innovation by partnering with him to file for a U.S. patent for the iHeat eye mask. Special thanks to Vision Monday for sharing information and photos of the event. Read more about the Student Innovator Awards on Vision Monday.
_____________________________________
About New England College of Optometry
New England College of Optometry is an independent graduate college of optometry that educates students for careers in eye care delivery, research and education. NECO was founded in 1894 as the Klein School of Optics, and is the oldest continuously operating school of optometry in the United States. NECO prepares the next generation of eye care providers, educators, leaders, and innovators through a rigorous curriculum and extensive clinical experiences. Through a vast network of clinical affiliations, our students put patient care first, providing vision care to children, older adults, the homeless, and individuals with disabilities through our work in our school programs, community programs, community health centers, and VA medical centers.
Media Contact: Ingrid Hoogendoorn, Director of Communications
phone: 617-587-5722
email: hoogendoorni(at)neco(dot)edu