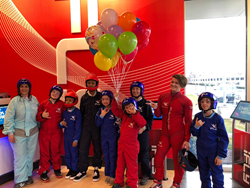 "We are excited to become part of the community here in Paramus and provide this one-of-a-kind experience for our customers," said Michael Zanetti, general manager of the new iFLY Paramus
PARAMUS, N.J. (PRWEB) May 15, 2018
Customers of all ages delighted in the thrill of human flight on the first day of business at the new iFLY Indoor Skydiving facility in Bergen County, New Jersey. iFLY, the world's largest indoor skydiving operation, has 29 facilities in the U.S., including its newest location at 211 E State Route 4 in Paramus.
"We are excited to become part of the community here in Paramus and provide this one-of-a-kind experience for our customers," said Michael Zanetti, general manager of the new iFLY Paramus. With iFLY, people of all ages and abilities can experience human flight in a safe, comfortable and fun environment – without having to jump out of an airplane.
The all-smiles group of eight, pictured with iFLY instructor Rebecca Lorch, second from right, was one of the first groups in the wind tunnel. "Seeing the smiles on our customers' faces is the best part of the work day for all of us at iFLY," added Zanetti.
To prepare for their flight experience, the group, like all other customers, completed a training class guided by one of iFLY's flight and safety instructors. They then were equipped with flight gear, including goggles, helmet and flight suit, and entered the flight chamber by leaning forward into a smooth cushion of air, with an International Bodyflight Association (IBA) certified instructor at their side. All iFLY instructors meet or exceed standards of the IBA.
iFLY offers a range of programming, including Flight School for kids ages 4-16 and various adult league nights and coaching programs to allow tunnel flyers an opportunity to progress in the sport of bodyflight. It also hosts STEM school field trips, military training, professional skydiving lessons, birthday parties and corporate events.
Each indoor skydiving facility is a marvel of engineering that replicates the sensation of freefall. With the help of iFLY certified flight instructors like Rebecca Lorch, customers learn to fly, control their bodies in the air and experience true human flight.
Learn more or book your iFLY flight package at https://www.iflyworld.com/paramus/.
Here is a video link to get a better sense of the entire experience - https://youtu.be/zXe7t30wrCI.
###
About iFLY Indoor Skydiving
Austin-based iFLY Holdings, LLC., is the world leader in design, manufacturing, sales and operations of wind tunnel systems for indoor skydiving. The company has flown more than 9,000,000 people in a dozen countries and at sea since launching the modern vertical wind tunnel industry in 1998. iFLY has more than 60 facilities operating worldwide with 29 wholly-owned in the US and has significant growth plans across the globe in the next 24 months. iFLY supports and utilizes the safety and training guidelines set out by the International Bodyflight Association (IBA) to ensure safety and progression of the sport of indoor skydiving. For more information on iFLY, visit http://www.iflyworld.com or follow us on Facebook, Instagram and YouTube. iFLY Paramus is located at 211 E State Route 4 in Paramus or by calling 201-733-4359. Learn more about the experience at https://youtu.be/zXe7t30wrCI.