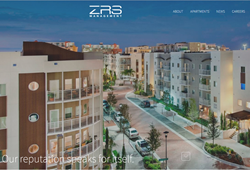 Being recognized as a top apartment management company for three years straight is a direct reflection of the hard work our associates put forth. Luanne McNulty, VP
WASHINGTON, D.C. (PRWEB) May 17, 2018
ZRS Management, LLC has earned national recognition by making the National Multifamily Housing Council's (NMHC) 2018 NMHC Top 50, the annual ranking of the nation's largest apartment owners, managers, developers, builders and syndicators. ZRS Management, LLC is the 37th largest apartment manager in the country, with 38,622 units managed at the time of the ranking.
As one of the leading luxury multifamily managers in the U.S., ZRS is honored to be recognized. As a pure third-party fee manager, ZRS has been able to advance four places since last year due in part to the trust and commitment their owners have in their ability to maximize the value of their investments, as well as the trust ZRS's Associates have in the sustainability of its company culture.
"Being recognized as a top apartment management company for three years straight is a direct reflection of the hard work our associates put forth to provide an exceptional living experience for our residents and the value we add for our clients," said Luanne McNulty, VP.
ZRS is one of the most highly regarded luxury multifamily managers in the United States and has grown from 775 employees with 33,000 units managed in 2016 (the 25-year anniversary for the company) to over 940 employees and 38,000 apartment units managed nationwide in 2017.
Currently operating in six states and 10 submarkets, ZRS is headquartered in Orlando, Florida and has regional offices in Fort Lauderdale, Florida and Dallas, Texas. For more information on ZRS's multifamily portfolio, visit http://zrsmanagement.com.
For more details about the NMHC 50, visit http://www.nmhc.org/The-NMHC-50.