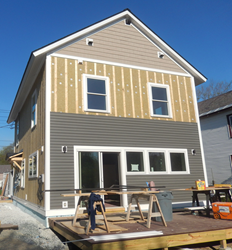 Marvin Windows are typically our go-to at NBF Architects and the windows in this house are the same as those I've put into my own home.
ENFIELD, Conn. (PRWEB) May 17, 2018
"We are extremely pleased to be asked to provide all of the windows and a sliding glass door for the Rutland Innovation Home, which is being given away through an essay contest aimed at attracting new residents to the area," said Keenan Burns, Chief Operating Officer of A.W. Hastings & Co., distributor of Marvin Window and Door products in New England and eastern New York. "We believe that Integrity windows from Marvin Windows and Doors are ideal for Vermont weather and fit perfectly with the mission of this project."
A. W. Hastings and their southern Vermont retail partner, r.k. Miles, have joined forces to ensure that the energy efficiency designed into this unique project literally doesn't go out the window. The new owners of what's being called "Vermont's home of the future," will enjoy not only the deed to a mortgage-free, energy-smart home complete with solar panels, air-source heat pumps, a Tesla Powerwall and cutting-edge insulation package, but also the peace of mind that Integrity windows and doors will help preserve energy.
Integrity windows and doors are constructed of Ultrex fiberglass, a patented material that outperforms vinyl, roll-form aluminum and other fiberglass composites and is sometimes referred to as "quite possibly the perfect building material." Integrity windows and doors, with their Ultrex construction, are built to perform in the face of the toughest elements and meet Energy Star standards.
"We chose All Ultrex Integrity windows and doors for the Innovation Home specifically because they are low maintenance and include dual-pane glass with a Low E coating to reduce heat loss and cut energy costs in cold climates like Vermont," said John Beeman, Vermont's architectural/retail business development manager for A.W. Hastings. "In addition to the Low E coating, the Integrity windows chosen for this project have Argon gas between the panes of glass, which improves thermal performance, meaning it slows the movement of warm air escaping and cold air getting in."
The 1,500-square-foot traditional New England-style farmhouse will include three bedrooms, one and a half baths, a wide front porch, and the latest in energy technology and controls. NBF architect Edward Clark, designer of the project, said the home combines classic New England style with building systems and materials that will make it incredibly comfortable, energy efficient, low maintenance and cost effective to live in for a lifetime.
"Marvin Windows are typically our go-to at NBF Architects and the windows in this house are the same as those I've put into my own home," Clark remarked. "Vermonters are very practical, expect good quality that will last for years at an affordable price and Integrity (from Marvin) delivers just that."
More than 60 partners have come together to make this project a reality. "In addition to sharing the performance and energy efficiency of Integrity windows and doors with homeowners and contractors, we were also inspired to participate in the project when we discovered that part of its mission was to attract new residents to Vermont and encourage young people to enter the building trades," said Miana Hoyt Dawson, marketing strategy manager at A.W. Hastings. "Our company has been integrated into communities around New England since it was founded here more than 150 years ago. In addition to our core business of supporting our network of retail partners with Marvin Windows and Doors, we continue to offer education and recruitment services because we believe we can be a key contributor in the development of the next generation coming into our industry. It is a pleasure when we have a chance to put that belief into action in the communities we serve by participating in a project like this."
For more information on the windows of choice for the Rutland Innovation Home, visit Marvin.com/Integrity.
June 18th is the final day to submit an entry to win the Rutland Innovation Home. Click here to enter.