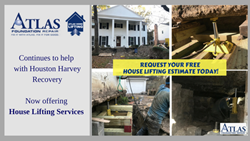 HOUSTON (PRWEB) May 16, 2018
FEMA has made flood mitigation funds available to some homeowners who want to prevent future storm damage. Atlas Foundation Repair is one of the first companies helping Houstonians take advantage of this benefit by adding house lifting to their list of services.
House lifting raises the complete structure of a home above base flood elevation to prevent recurring flood water damage. Even without the type of prodigious rainfall Harvey brought, flash-flooding in Houston has been common enough to have made this service beneficial for some time, but the availability of FEMA funds is making it financially feasible for some Houston homeowners for the first time. Eligible applicants can receive FEMA funds for flood mitigation projects.
FEMA isn't helping all homeowners who need house lifting (they are targeting Severe Repetitive Loss Properties, and homeowners who participate in the National Flood Insurance Program), but homeowner's insurance and flood insurance provides other avenues for some.
During the house lifting process, Atlas raises the home on hydraulic jacks, then constructs a new, higher foundation or extended foundation in the resulting space. Most people can return to the building safely shortly after the work is complete. This process helps homeowners prevent more costly repairs later.
Atlas has offered this service before. They last made house lifting available in the aftermath of Hurricane Katrina. They briefly discontinued it, but upon seeing the great recent need decided to return it to their list of service offerings. House lifting prevents family displacement and preserves neighborhoods and communities. It also protects the value of the home by protecting it from future flood damage.
Atlas is responsible for completing over 25,000 foundation repairs and home lifting jobs since its founding. The company offers free estimates to any home or business owner who wants to determine whether this highly beneficial service makes sense for their property.
To find out more, visit http://www.atlasfoundation.net/house-lifting or http://www.fema.gov/flood-mitigation-assistance-grant-program.
CONTACT
Mark Chamberlain
Atlas Foundation Repair
8945 Solon Rd.
Houston, Texas 77064
Phone: 832-614-3549
ABOUT ATLAS FOUNDATION REPAIR
Atlas Foundation Repair is a fourth-generation family-owned and operated foundation repair company. They repair homes and businesses throughout Houston and the surrounding area, including the Bishop's Palace in Galveston, the Fire Fighter's Credit Union, the Houston Housing Authority and Westminster United Methodist Church. To learn more, visit http://www.atlasfoundation.net.