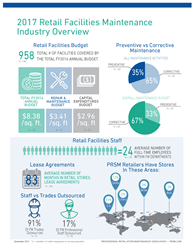 We are confident the information presented in this report will provide accurate, actionable data to show FMs where they stand in the industry and how they can improve. - Bill Yanek, PRSM CEO
DALLAS (PRWEB) May 22, 2018
The Professional Retail Store Maintenance Association (PRSM), the authority on retail, multi-site facilities management has released the 2017 Retail Facilities Maintenance Industry Overview Benchmarking Report. This report, created from member-survey data provides valuable insights, and factual comparisons of financial and operational benchmarking data and enables retail facilities managers (FMs) to make better, data-based decisions.
The study illustrates how retail FMs increasingly face more challenges, such as managing aging properties and the skills gap which creates a lack of skilled trades staff. While it's no surprise, facilities maintenance trades are often outsourced (91 percent), whereas outsourcing professional staff rarely occurs (17 percent).
"FMs are under more pressure to perform than ever before," said Bill Yanek, PRSM CEO. "We are confident the information presented in this report will provide accurate, actionable data to show FMs where they stand in the industry and how they can improve."
Another prominent statistic shows 67 percent of facility maintenance budgets is spent on corrective maintenance, while only 33 percent goes toward preventive maintenance.
Thirty percent of PRSM's retailer members and 20 percent of supplier company members submitted information via prsmbenchmarkingtool.com, powered by Dynamic Benchmarking. A variety of different store types are represented including apparel, banking/financial services, convenience stores/gas stations, chain drug stores/pharmacies, discount stores, grocery stores, medical/dental and many others.
Aside from the 2017 Retail Facilities Maintenance Industry Overview Benchmarking Report, PRSM has many other resources to help FMs improve performance. PRSM's Resources Center provides management tools exclusively for the Retail FM and supplier community. Resources include: quarterly white papers on leading industry issues; the annual Best Practices Book that covers a wide spectrum of FM industry trades; and the Retail Facilities Benchmarking program.
Other resources such as industry research-based Trends Reports, and Online Buyer's Guides, the association's bi-monthly magazine, Retail Store Maintenance (print and electronic), and PRSM Weekly (a news-focused e-newsletter) help keep retail facilities managers up-to-date on breaking trends and industry issues.
The full 2017 Retail Facilities Maintenance Industry Overview Benchmarking Report is available for purchase here. For more information or if you have any questions, please email benchmarking(at)prsm(dot)com.
About the Professional Retail Store Maintenance® Association (PRSM)
PRSM Association, the authority on Retail and Multi-site Facilities Management, is the leading membership organization for retail facilities and vendor professionals. PRSM empowers Retail Industry facilities management professionals with best practices, benchmarking, education, discussion forums and trusted partnerships. Chartered in 1995, and with approximately 950 member companies, PRSM community values are founded on a spirit of innovation, resourcefulness, the quest for knowledge and ethical business relationships. Members depend on PRSM to help them achieve greater success and a competitive advantage through quality programs and resources.