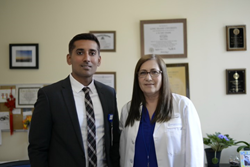 Our event enables us to raise awareness of the great advancements in clinical trials, as well as dispel the myths and misconceptions about them.
NEW YORK (PRWEB) May 16, 2018
In recognition of National Clinical Trials Day, which takes place this month, Queens Medical Associates (QMA), a preeminent blood disorders and cancer care facility, will be hosting its inaugural Clinical Trials Day on May 22.
The event's objective is to increase awareness and educate QMA patients about clinical trials as well as discuss current medical advancements and the importance of clinical trials in the fight against cancer. Providing comprehensive and up-to-the-minute information is a key component of QMA's integrative approach to care.
"Our Clinical Trials Day event presents an amazing opportunity to speak with our patients about what clinical trials entail and how they can be of benefit to cancer treatment plans," explains Karen Eisenberg, RN, MPS, Director of Clinical Research at QMA. "Clinical trials not only present an opportunity for the patients who take part in them, but also for researchers around the world, who use this type of research as a critical tool for learning more about various types of cancers, their effects on the body and how to treat them."
Some of the questions to be addressed at the event include:

What are the determining factors that allow you to participate in a clinical trial?
How do I decide to participate?
What is an Informed Consent?
What is done during the trial and for how long?
What risks are involved?
What other treatments are available?
International Clinical Trials Day is held every year on May 20 to commemorate the day that James Lind began the first randomized clinical trial in 1747. A surgeon and pioneer researcher, Lind was on board a ship in Britain's Royal Navy fleet, where seamen contracted the deadly disease, scurvy. Lind believed scurvy was due to a lack of vitamin C and convinced 12 seamen to participate in a randomized clinical trial. He divided the seamen in two groups: one who consumed citrus fruits and one who did not. This was the first representation of randomization in a clinical trial setting, which has set the foundation for research and subsequent scientific and medical advancements throughout history.
All clinical trials have guidelines about who can participate in the program. Guidelines are based on many factors, such as: age, type of disease, current medical condition, and medical history. Before one can join a clinical trial, he or she must meet eligibility criteria to qualify for the study. Some research studies inquire about volunteers with illnesses or conditions to be studied in the clinical trial, while others need healthy volunteers.
"Our event enables us to raise awareness of the great advancements in clinical trials, as well as dispel the myths and misconceptions about them," explains Dr. Abhisek Swaika. Dr. Swaika has been actively involved in clinical trials and has authored several articles in major scientific journals.
QMA's Clinical Trials Team will be available to answer all questions patients and/or their families may have regarding clinical trials. Refreshments will be provided.
ABOUT QUEENS MEDICAL ASSOCIATES
Queens Medical Associates (QMA) is a well-established physician practice and infusion center which provides hematology and medical oncology care for patients with cancer and blood disorders. Located in Fresh Meadows, New York, QMA's physicians and clinical staff bring decades of experience providing exceptional care and treatment. Approximately 300 patients are served daily translating into over 200 treatments. QMA's team members communicate in seven official languages (English, Spanish, Chinese, Korean, Russian, Hindi and Bengali). The practice also offers infusion therapy for many conditions including Crohn's disease, multiple sclerosis, rheumatoid arthritis, and organ transplants. For more information about Queens Medical Associates, visit http://www.queensmedical.com/.