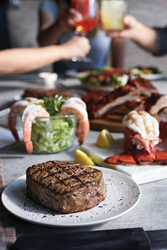 "We are pleased to announce the re-opening of our Pleasant Hill location," said Chris Ames, Chief Executive Officer, Black Angus Steakhouse. "We would like to thank the local Contra Costa County agencies for their support and the construction crew for its hard work throughout the renovation."
PLEASANT HILL, Calif. (PRWEB) May 16, 2018
Black Angus Steakhouse, the original American steakhouse, will reopen its Pleasant Hill location at 3195 N. Main Street on Sunday, May 20 following the completion of repairs and renovations the restaurant underwent after an electrical fire.
"We are pleased to announce the re-opening of our Pleasant Hill location," said Chris Ames, Chief Executive Officer, Black Angus Steakhouse. "We would like to thank the local Contra Costa County agencies for their support and the construction crew for its hard work throughout the renovation."
The Black Angus Steakhouse in Pleasant Hill will be open to guests during the following days and times:

Monday through Friday – 3 p.m. to 10 p.m.
Saturday – 11 a.m. to 10 p.m.
Sunday – 12 p.m. to 9 p.m.
As one of the top-ranking restaurants in the area, Black Angus Steakhouse in Pleasant Hill has four stars on OpenTable and five stars on Trip Advisor. Black Angus Steakhouse is also proud to have received the following recognitions from FSR Magazine: "Top 50 Emerging Restaurant Chains" and "12 High-Performing Restaurant Chains to Watch."
For more information on Black Angus Steakhouse and to make reservations beginning May 20, please visit http://www.BlackAngus.com.
About Black Angus Steakhouse
Black Angus Steakhouse has been mastering its craft since it was founded in Washington in 1964. Headquartered in Los Angeles, Black Angus has 44 locations across California, Washington, Arizona, New Mexico, Alaska and Hawaii. The restaurants pay homage to its Western cattle rancher roots, but offer the finest Certified Angus Beef® and USDA Choice steaks and burgers, in addition to seafood, salads, sides and desserts for the entire family. The Bulls Eye Bar serves a robust menu of craft beer, wine and hand-crafted cocktails. More information is available online at blackangus.com or follow Black Angus on Facebook, Instagram @blackangussteakhouse or Twitter @BASteakhouse.
###
Media Contact:
Lisa Goldstein
Thread Communications, LLC
lisa(at)threadpublicrelations.com
516-317-3555