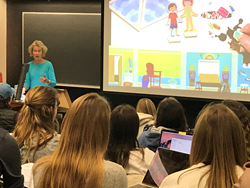 Thank you for continuing to inspire our students. We are so appreciative of your generosity of time and wisdom - NU Speech School Director and Ph.D.
(PRWEB) May 29, 2018
Play On Words LLC, led by highly respected speech language pathologist Sherry Artemenko, announces 2018's Spring PAL Award Winners, the toy industry's only recognition directed by a credentialed speech-language expert recognizing the language learning edge in exceptional toys, games and books. Sherry's 35 years of child development experience with over 17,000 hours working with kids empower her PAL selections, video reviews, popular blog, media appearances (NBC Connecticut, FOX News Milwaukee), and consulting practice.
The NY Times recently highlighted a study in the journal, PEDIATRICS, "Reading Aloud, Play and Social-Emotional Development" which included findings important for parents and caregivers looking to understand the developmental power of toys. The report's key take-away is that not only does rich pretend play build communications skills, but it also helps kids control their behavior so that when the time comes for them to be attentive and learn, it's more likely to happen. The Times article goes on to say, "all parents should appreciate the ways that reading and playing can shape cognitive as well as social and emotional development, and the power of parental attention to help children flourish."
Playonwords.com helps toy brands and consumers alike see the strategic value of language learning in play through helping to build vocabulary, foster cooperation, express emotion, kindle creativity and expand descriptive and problem solving capacities. The PAL Award on the internet, packaging and in print media differentiates brands who know the marketplace now demands products that are not only fun, but also infused with learning potential. The gold seal with three smiley faces tells customers that more than great entertainment is to be found behind the box, book cover or app license. Here's what's great in Spring One-Eight!
EARLY DEVELOPMENT: Sherry's experience in pediatric speech therapy has given her an eye for the best products to build attention, vocabulary and concepts through play, preparing children for their first sounds, words and sentences. While helping squirrel make acorn soup, describing and assembling a glow-in-the-dark puzzle, following directions from baby's soccer ball, or learning from a super hero watch, kids learn essential language skills.

Acorn Soup by MindWare
Bright Lights Soccer Ball by VTech
BRIO World- SmartTech Engine with Action Tunnels and Washing Station
Chugga Choo by MindWare
GearZooz GearBuddies Lion & Mouse by VTech
Go! Go! Smart Wheels (Police Car, Truck, Helicopter) by VTech
Learn and Spin Aquarium by VTech
Multi-Spout Sprayer by Hape
My First Learning Tablet by LeapFrog
PJ Masks Super Catboy Learning Watch by VTech
Play & Move Puppy Tunes by VTech
Puzzle Doubles! Glow in the Dark Pirate Ship by The Learning Journey International
Sensory Railway by Hape
READING AND WRITING: Listening to a favorite story projected on the ceiling in the dark, searching for a word in a continuous ring of letters, learning the essential parts of a story through Peppa's adventures, or playing learning games with a talking plush animal, all help children pick up essential skills to advance reading.

AlphaBriks & MathBriks by Strictly Briks
Anomia Kids by Anomia Press
Bluebee Pal Pro Lily The Lamb - Talking Plush Educational Learning Toy/App by Kayle Concepts
LeapStart Peppa Pig by LeapFrog
Long and Tall Puzzle 123 Rocketship by The Learning Journey International
Make a Mat by Makeamat.com
Moonlite by Spin Master
Tad's Fridge Phonics by LeapFrog
WordAround 2 by ThinkFun
LANGUAGE STRUCTURE, CRITICAL THINKING AND REASONING: These outstanding products can build language structure, critical thinking and reasoning, often teaching vocabulary, concepts or grammar while delivering fun. Draw and guess attributes, build your bank of adjectives, construct the tale of the Three Pigs with illustrated story pieces and magnetic cubes, tap your critical thinking and memory skills to surprise players with your strategy, or unzip three nested puppets to explain the life cycle of a frog to strengthen communication skills.

ARTributes by Simplyfun LLC
Code Hopper by MindWare
CODENAMES : Disney Family Edition by USAopoly
Frog Life Cycle by Folkmanis, Inc.
GraviTrax Starter Set, Expansion Pack and Accessories by Ravensburger
Magicube Story Building by Geomagworld
My Little House by Smartfelt Toys
Otrio by Spin Master
Quick Pickle by MindWare
Rival 5 Game by Rival 5 Game LLC
STORY-TELLING / PRETEND PLAY: Whether searching for the treasure in a crocodile's skull cave, taking an x-ray of a foal in a mobile vet, setting up a chase scene between levels with your trap doors, or cooking breakfast on your cloth stove that slips over a chair, children enter the world of pretend, creating their own stories with plenty of flexible props to guide their imagination. Oral story-telling precedes writing as kids learn the steps to create a good narrative.

Bunchems Creativity Pack by Spin Master
Croco Jungle Research Station by Schleich
German Shepherd Puppy by Folkmanis, Inc.
Kinetic Sand Beach Sand Kingdom by Spin Master
Kruselings by Hape
Large Red Barn with Animals by Schleich
Magicube Freebuilding Cubes by Geomagworld
Magicube Mix and Match 9 piece by Geomagworld
Magnetic Board (Dinosaur) by Bigjigs Toys LLP
Mobile Vet With Hanoverian Foal by Schleich
Pop Oh Ver Kitchen Counter Top by Kangaroo Manufacturing
Pop Oh Ver Stove Set by Kangaroo Manufacturing
The Cube & the Pyramid by Strictly Briks
Trap and Gap Baseplates by Strictly Briks
SOCIAL LANGUAGE: Complementary to pretend play, social language blossoms when children play with toys and games and interact with media that encourage extended social interactions. Playing cooperatively to hide the farm animals from the wolf, building a 3D VW puzzle with your family, recognizing and relating to augmented reality cartoon mood characters and their reactions, or choosing Super Me actions to help others, can equip kids to better name, understand and manage their emotions, leading to stronger EQ's.

Brik Buster by Strictly Briks
Catch! by MindWare
Hoyle Super Me! by The United States Playing Card Co.
Imitator by MindWare
My Story Dolls by Faber-Castell
Playful Chef Chocolate Studio and Shoppe by MindWare
Q Moment AR by EQtainment
Ravensburger VW 3D Puzzle
Super Kid in Training by MindWare
Where's Mr. Wolf? by Blue Orange Games
Playonwords.com was founded by well-respected speech-language pathologist, Sherry Artemenko. Her 35 years championing language rich play, esteemed PAL Award, popular blog, and insightful tips to parents set her apart as the leading advocate for the language component in toys.
Over 17,000 hours working directly with children has shown her that a unique set of the best toys, games and books have the capability to develop language while delivering great play. Studies show:

Kids with highest IQs at three, had the most words at one and two
Language learning is cumulative – early words => early sentences => language & reading
Most kids maintain their verbal advantage through childhood
Creative pretend play that sparks story-telling can advance future literacy
Sherry established the PAL Award to identify unique toys, games and books that through their design, quality and character, encourage play that advances language. PAL winners in the hands of kids, spark fun and creative play with lots of talk. Such toys, recognized on the basis of her child development expertise, are complemented by practical coaching in her blog, showing parents and caregivers how to get the most from toys, games and books to build language and underlying cognitive skills.