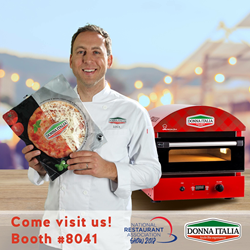 "I am excited to work with Donna Italia to help tell the story of what makes pizza – enjoyed by generations of all ages – a truly Italian experience," said Chef Luca Manfè.
MIAMI (PRWEB) May 16, 2018
Luca Manfè, winner of Fox Network's MasterChef Season Four, has joined Donna Italia, creator of the 100% Italian-made, three-minute, turn-key pizza+oven solution for chefs and foodservice operators, as its Brand Ambassador, adding his voice and culinary talents in celebration of one of Italy's most beloved, time-honored favorites – pizza – enjoyed in its most authentically-Italian and classically-prepared style.
"I am excited to work with Donna Italia to help tell the story of what makes pizza – enjoyed by generations of all ages – a truly Italian experience," said Chef Manfè. "One of the great things about pizza, is its versatility, which has inspired many to create their own variations. But the truly authentic Margherita-style pizza born in Italy is still the very best there is – Donna Italia has mastered the taste, quality, and preparation of Italian-made pizza on a large scale, and I look forward to serving as their brand ambassador to help share the authentic flavors of my home country and true Italian pizza experience to the U.S. market and beyond."
Chef Luca, age 36, is a native Italian now living in the U.S. Ready to embrace the opportunity to promote his Italian cuisine and culture, he is working with Donna Italia across a variety of marketing and promotional channels, including a video series, on social media, and making select appearances, including at Donna Italia's booth (#8041) at the 2018 National Restaurant Association International Foodservice Marketplace in Chicago from May 19-22. He will also work with Donna Italia to create his own signature recipes using the Donna Margherita and his favorite toppings. While Chef Manfè is best known as the winner of FOX' MasterChef Season Four, he has also managed his own restaurant in New York City, written cookbooks, and has been involved in many successful culinary projects.
"We have worked hard to develop a product and solution with Donna Italia that lives up to the traditions and tastes of Italy while using only natural ingredients, and the right combination of hand-made and production-level techniques," said Gilad Shalom, President and Founder, Donna Italia. "There were several chefs we considered partnering with, however, it was Chef Luca's genuine authenticity and respect for Italian tradition, together with his creative, innovative and contemporary flair that made him the perfect fit for us. We are delighted to have him on the team as we continue to bring our authentically Italian pizza experience to the foodservice industry and ultimately, pizza-loving consumers."
Since launching the Donna Italia Pizza Solution in the U.S. last year, the fast-growing company has found a strong following among restaurants, hotels, bars and other hospitality and foodservice providers with hundreds of outlets nationwide now featuring Donna Italia as part of their menu offerings. Key markets include Florida, Nevada and California.
The Donna Italia Pizza Solution was developed to help foodservice operators prepare and serve a high-quality, Italian-made pizza – one of the world's best loved and most frequently ordered foods – quickly and easily without investing in large, expensive equipment, staff time or training. In addition to the product itself, the Donna Italia Pizza Solution also includes the company's cost-effective business model and flexible contract terms. Restaurants and food and beverage operators receive the equipment (including oven of choice, pizza prep tools, and ongoing service and support) at no cost, paying only for the pizzas much like a month to month food club subscription, creating an efficient stream of revenue with zero depreciation.
Donna Italia pizzas are made in Italy with 100% natural ingredients, including fresh Italian mozzarella cheese, a special blend of Italian flours, olive oil, and tomato polpa (crushed tomatoes), with no added sugar, baking enhancers or preservatives. For optimum freshness, the pizzas are partially baked in a wood-fire oven, fast-frozen, and packaged individually in a specially-designed, flow-pack wrapper. The result: Donna Italia's plug-and-play counter-top stone oven – exclusively designed to perfectly prepare the Donna Italia pizzas quickly, easily and with consistent quality - allows for a hot and delicious pizza to be served in only three minutes from freezer to table.
ABOUT DONNA ITALIA
Donna Italia is a proven, turn-key pizza solution for hotels, restaurants, cafés, bars, entertainment venues, and other food and beverage outlets seeking an authentic, Italian pizza experience for their patrons that is great tasting as well as fast and easy to prepare and serve. The plug-and-play Donna Italia Pizza Solution consists of both a genuine, 100% Italian-made pizza together with a space-saving, state-of-the-art Italian-made stone oven designed exclusively for the Donna Italia pizzas to ensure perfect preparation with ease and precision in just three minutes. Providing speed, simplicity and consistent quality, the ovens – available in three models - are small enough to sit on a counter-top and require only a regular 110v outlet for operation. Donna Italia also offers three pizza options – the Donna Italia Margherita Pizza, Pizza Focaccia, and Donna Bianca – all available in both 12" and 9" sizes.
Founded by Gilad Shalom in Israel in 2011, the company expanded internationally in 2015 under Donna Italia International and today has a presence in 13 countries. In 2017, Shalom began to focus his efforts on developing the U.S. market as the CEO of Donna Italia USA. Today, the company works with thousands of food and beverage operators worldwide, while also offering a compelling franchise opportunity. Donna Italia maintains offices in Israel, Cyprus, Italy and Miami, Florida. The Donna Italia ovens and pizzas are produced and manufactured exclusively in Italy. For more information, visit http://www.donnaitalia.com or follow us on Facebook @DonnaItaliaInt.