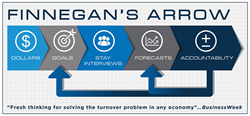 I want to have a meeting with you to learn how I can make working here better for you.
LONGWOOD, Fla. (PRWEB) May 18, 2018
Virtually every executive knows that shortages of skilled labor are a major barrier to productivity and growth, but few leaders seem able to come up with solutions that really have an impact on this problem. Before the Great Recession, studies showed 26% of employees voluntarily quit their jobs and we are now approaching that all-time high, bringing catastrophic results for healthcare, technology, manufacturing, and service industries.
If our businesses faced struggles with profit margins on the same scale as the ones we face regarding turnover, the smartest C-Suite executives would be looking for new solutions rather than accept that turnover is inevitable. But the great majority of companies continue with the same hamster-on-wheel approach of (1) conduct exit and engagement surveys, (2) implement one-size-fits-all solutions, and (3) watch turnover stay the same or get worse.
From working with hundreds of employers over the past decade, we know the single greatest button you can push to improve turnover is for each of your supervisors to build trust with each member of their teams. Employees quit and slack off for many reasons, but research by Gallup and others tells us all solutions must start here.
Building better supervisor-employee relationships is the right strategy but problems of this scope also require tactics. Let me propose fresh-thinking, business-driven ones.
Business-Driven Retention Solution
These five steps must be done in sequence and driven tops-down with authority. Note how they mirror the same ways your company manages sales.
Convert turnover costs to dollars. Stop comparing turnover percentages to useless benchmarks which provide false comfort, but instead hard-wire your managers to see each unwanted exit as a hard cost. One technology company CEO found losing a software engineer cost more than $131,000, and therefore proclaimed his top revenue-goal tactic was to reduce software engineer turnover.
Establish retention goals for all leaders on all levels, one for all turnover and another for first-year turnover. Leaders must own their talent, and solving first-year employee turnover not only improves hiring but also paves the road to improving all retention. If research tells us the top reason employees leave leaders is lack of trust, require your leaders to build trusting relationships that improve both retention and productivity.
Train leaders to conduct Stay Interviews so they learn the individualized needs of each member of their teams. Some want more training, others want to leave on time to avoid day care fines or catch their kid's little league games. Most, though, want help with work processes like remove reports nobody reads or clamp down on another employee whose poor performance impacts theirs.
Stay Interviews have no peers for finding what employees really want and need. Employees are conditioned to believe every meeting is about checking on old work or getting new work, so telling them "I want to have a meeting with you to learn how I can make working here better for you" brightens their eyes and hearts. Solving their individual issues builds trust and no employee survey will disclose them.
Then ask leaders to forecast how long each employee will stay. Give them three duration categories of 1 year or more, 6 to 12 months, and less than 6 months for projecting retention. Forecasting forces leaders to commit to carrying out individualized employee retention plans for each employee based on Stay Interview results, and also surfacing real issues they can't fix…each company's sacred cows. Executives should drill down on these reports to ensure their top performers are retained at nearly any cost.
Use Accountability To Drive Performance. Successful executives we've worked with constantly talk about each leader's performance against their two retention goals… all employee turnover and first-year turnover… and the accuracy of their forecasts. Some executives implement a new form of exit interviews where managers ask supervisors a series of questions when an employee on their team leaves, further driving home that each loss of talent is important.
Focusing on these 5 sequential, business-driven, steps will measurably improve your organization's employee retention. We've seen it work in dozens of organizations and here are a few examples:

Global hospitality corporation's call centers, employee turnover reduced 50% in four months
North American auto collision repair company, employee turnover reduced 43% in four months
U.S. major hospital, nurse turnover reduced 70% in 6 months
Reducing unwanted employee turnover is a lot like managing sales. Salespeople know the dollar value of each sale for their companies. They have sales goals, sales tools, they forecast sales, and they're accountable for their goals and forecasts. If you apply these same business processes to your employee retention challenges, you too will see major measurable results.
Richard Finnegan is the CEO of C-Suite Analytics which helps organizations large and small cut turnover and improve engagement. He is the author of The Stay Interview and four other books on employee retention and engagement. Explore the Books by Dick Finnegan.