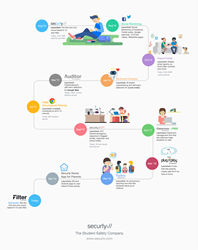 "Securly is the first and only company focused on the mission of student safety for schools & families."
SAN JOSE, Calif. (PRWEB) May 16, 2018
Securly Inc, the Silicon Valley-based student safety company announced today that it is rebranding its flagship web filter product from securly:// to Filter. The rebranding more accurately reflects Securly's student safety-focused suite of products, and includes a new logo and an updated website.
In 2013, Securly released the first and only cloud-based web filter on the K-12 market and currently serves 1 out of every 10 school districts in the United States. Student safety has been Securly's mission since the company's inception. The range of products and services Securly has released since then reflect their dedication to that mission:

Aug '13: The flagship web filter product securly:// launched as the first and only cloud-based web filter designed for K-12 schools. Over 1600 districts use this product today for seamless filtering anywhere, for any device.
Aug '14: Securly Inc releases Social Media Monitoring for Facebook, Twitter, Google Plus, Youtube, Google, Bing, and Wikipedia.
Oct '14: Parent Portal launched, sending parents weekly email reports and providing dashboard access for their kids' weekly activities. Parents can also participate in managing kids' filtering policies outside the school campus.
Jan '15: Sentiment Analysis-based flagging for social media messages launched, dramatically increasing the ability of districts to detect and prevent incidents of self-harm, suicide, and bullying.
Mar '17: Securly Inc released Auditor, AI-based cyberbullying and self-harm detection for Gmail. Currently, over 1000 school districts actively use the tool, with millions of emails scanned daily.
July '17: Free Chromebook Filtering launched globally. Currently, over 5M students are being served worldwide, including underserved schools in Africa and Haiti.
Sept '17: Securly Inc launched securly://24, a round-the-clock monitoring service of trained Student Safety Analysts who investigate flagged emails and searches, and contact schools or authorities in emergency situations. To date, over 34 lives have been saved from potential suicides.
Nov '17: Securly Inc launched a Classroom management product that allows teachers to keep students on task.
Mar '18: Securly Inc released Plug n' Play Hub, a wifi hotspot that lets Securly parents filter and create the same safe Wi-Fi at home for their kids that they experience in school.
Mar '18: Securly Inc launched Tipline, an anonymous reporting service used by students to report incidents of violence or distress. The alerts come to securly://24 Student Safety Analysts, who investigate and notify on the reports.
May '18: Securly Inc released a new Securly Home App for Parents, iOS and Android apps that allow parents to monitor Parent Portal activity without a desktop browser.
May '18: Securly Inc today renames the original web-filter product to Filter to reflect the broad suite of product offerings that are now associated with the securly:// brand.
"Securly is the first and only company focused on the mission of student safety for schools & families," said Vinay Mahadik, co-founder & CEO. "Our securly:// brand was frequently associated with our flagship web filter, and needed to catch up with the breadth of services we have brought to the market."
Securly's range of services broaden the scope of where districts and parents can expect their children to be safe. From cloud-based web filtering that extends to take home devices, weekly parent reports of kids' online activity, and a 24/7 response service for flagged alerts of grief, Securly keeps students safe everywhere and in every way. With this rebranding effort, Securly will continue to offer a comprehensive variety of student safety-focused products and services to K-12 districts, while operating under a cohesive securly:// brand.
To view the timeline infographic, visit: https://bit.ly/2GoToUY
For more information on Securly's student safety solutions, please visit http://www.securly.com.