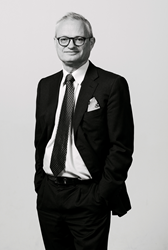 SAN FRANCISCO (PRWEB) May 17, 2018
Rootstock Software, the leading cloud Enterprise Resource Planning (ERP) provider for manufacturing, distribution and supply chain organizations on the Salesforce Platform, announced today the appointment of Per Norling as General Manager, International to oversee the company's growth across the EMEA and APAC regions. Mr. Norling will oversee sales, customer success and support, in addition to recruiting and enabling channel implementation partners in both regions.
"Per is an accomplished executive and an expert in the manufacturing and supply chain industries," said Pat Garrehy, CEO, Rootstock. "The opportunity for cloud ERP is immense and we are pleased to have Per leading our international teams to capitalize on this potential worldwide. He brings a unique perspective and successful track record managing operations for global ERP companies. We are excited to have Per join the Rootstock executive team."
The appointment of Mr. Norling comes on the back of several recent executive and growth announcements from Rootstock which clearly shows that the company is positioning itself for the next wave of expansion. "The cloud ERP opportunity with Rootstock parallels the booming ERP market I experienced during my time managing Baan in Europe," said Per Norling, general manager, International, Rootstock. "Manufacturers and distributors are languishing on legacy ERP applications, some of which were implemented before Y2K but are now ready to move into the cloud en masse. Rootstock's cloud ERP on the Salesforce Platform is an ideal way for global manufacturers and distributors to begin their digital transformation. I am excited to be leading this expansion with Rootstock."
With more than 30 years of experience in manufacturing and supply chain technology, Mr. Norling has a proven track record of helping companies achieve new levels of productivity and profitability. As a solid leader and communicator, Mr. Norling specializes in understanding and creating international market opportunities for the benefit of employees, customers and partners. He has an extensive experience in the areas of ERP from 'start-ups' to complex supply chains in large enterprise organizations.
For the past year, Mr. Norling has been a strategic advisor for Rootstock, helping the company build its presence in EMEA. Earlier in his career, Mr. Norling was managing director Nordic and COO EMEA for Baan Company NV where he managed the business for the entire EMEA region. In addition to Rootstock, he has held several executive positions at CDC Software, ROCE Partners, TrustWeaver and Pansophic. He graduated from the School of Industrial Economics in Linköping with an MS in Engineering.
Additional Resources
" Like Rootstock on Facebook at http://www.facebook.com/RootstockSoftware
" Follow Rootstock on Twitter @RootstockMFG
Salesforce and others are among the trademarks of salesforce.com, inc.
About Rootstock
Rootstock Software develops and implements cloud Enterprise Resource Planning (ERP) software that helps manufacturers and distributors deliver personalized customer experiences, build operations that scale and out-service their competition. Rootstock Cloud ERP lets organizations take a more customer-centric and project-oriented view of operations across a robust suite of modules, including Order Management, Manufacturing Operations, Supply Chain and Financial Management. When combined with Salesforce CRM on the Salesforce Platform, companies gain complete visibility to their entire organization and customers. Let Rootstock's cloud ERP experts help migrate your company off legacy ERP today. To learn more, please visit http://www.rootstock.com.
###