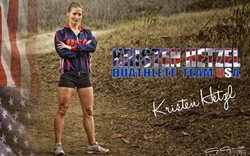 Kristen Hetzel embodies what it means to "Kicka$$ for Good"... She is an inspiration...
SANTA MONICA, Calif. (PRWEB) May 31, 2018
"Kicka$$ and Party for Good" is a fun invite only social club in L.A. for like-minded "Rockstars in Life" that make a difference every day, and rewards members travel funding to celebrate and enjoy the world's funnest party every season. Kristen Hetzel is a great role model that embodies what it means to "Kicka$$ for Good."
According to Kicka$$ and Party for Good Founder, Carlos Cymerman, "We are humbled to select such an outstanding woman, we met Kristen three years ago, and she has amazed us every step of the way."
How We Honor the Nominated Rockstar of the Year
The Rockstar selects one destination for "Kicka$$ & Party for Good" to reward travel funding (flights and hotel accommodations). Kristen's choice is the 2019 Pontevedra Multi-Sport World Championships, in Spain.
How to Enjoy Travel Funding Reward to 2019 World Championships
1) Must live in Los Angeles, be 30 years of age, and be a 'Rockstar in Life' who has made a difference for at least 5 or more years.
2) RSVP with Susan(at)WePartyforGood(dot)com to attend Fun Foodie Party at Art-Food Restaurant in Santa Monica.
Parties are by invite only and limited to 10 awesome attendees.
3) Once verified individual is making a difference; the person is invited to participate in rewarding travel funding service, sponsored by Recruiting for Good.
Carlos Cymerman adds, "What makes Kristen a 'Rockstar in Life,' is the sacrifices she makes to be a champion athlete, her commitment to mentoring kids; and above all else she is the kindest, most humbled, and spirited soul."
About
Kristen Hetzel is an athlete and member of Team USA. Kristen is ranked #6 in the world as a Duathlete and recently finished first for the United States at the 2015 ITU Duathlon World Championships in Adelade, AU. Kristen has been part of Team USA since 2013 and has been All-American in the Duathlon for the last 3 years. Besides being a fulltime athlete working out two and three times a day; Kristen is both a fulltime professional, and actor. To learn more visit http://www.KristenHetzel.com
Kicka$$ and Party for Good is a fun invite only social club in L.A. for 'Rockstars in Life' that make a difference every day; and serve family, friends, and community. Club members enjoy access to travel funding service provided by Recruiting for Good to the World's Funnest Parties Every Season (Fall 2018 Hawaii Food and Wine Festival in Maui, Winter 2018 New Years Eve Party in Sydney, Australia, Spring 2019 Multi-Sport World Championships in Pontevedra, Spain, Summer 2019 Edinburgh Festival Fringe, Scotland).
Recruiting for Good, a socially progressive staffing company in Santa Monica, serving talented professionals since 1998. Companies retain us to find the best talent in Accounting/Finance, Engineering, and IT professionals. "We support Our Moms Work, a fun community service." And reward referrals with travel to celebrate life.
AIR⋮FOOD is born of two passionate visionaries, Marc & Thierry. "They come from two completely different backgrounds. One was a contractor in logistics, the other a chef in London and Paris. What they both have in common besides the love of good food, is the love of street culture. Several years ago they met in Paris during a regular shoe sale at the place de La République…" AIR⋮FOOD is located at 109 Broadway, Santa Monica, CA 90401. Hours are 8:30 a.m. to 10:00 p.m. from Sunday to Thursday & from 8:30 a.m. to 11:00 p.m. on Friday & Saturday