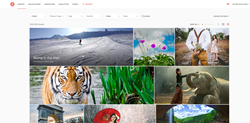 We are able to deliver a secure, seamless and tightly integrated experience between the cloud and on-premises environments straight out of the box - Brian Ahearn, CEO Evolphin
SAN RAMON, Calif. (PRWEB) June 19, 2018
Companies faced with the need to maximize the capture, processing and distribution of digital content are looking to on-premises and cloud-based deployment models to help them better manage the costs and significant increase in media production and media consumption, all within a dynamic and competitive environment.
Evolphin is excited to announce a portfolio of Hybrid service offerings, each geared specifically to customers who want to seamlessly manage their content creation processes on-premises and in the Cloud. Companies who will benefit most are those producing omnichannel content in a distributed, fast moving and time-sensitive environment. Financial planners will also appreciate a new flexibility with business models that leverage both Capital and Operational based pricing.
Evolphin has three service offerings available:
1. Evolphin Wave, a pure SaaS-based business model providing lightweight review and approval of assets for any sized business including the ability for drag and drop to upload videos, images, and documents; file transfer tools; user rights management; a robust commenting system; and flexible link management for sharing media. For more information about Evolphin Wave and to sign up, visit wave.evolphin.com.
2. VideoLX Hybrid, a perpetual or managed service business model connecting on-premises storage with an on-premises or cloud-based MAM. VideoLX Hybrid includes the Evolphin Transcoder, which automatically generates proxies of high-res video. High-res video remains on-premises while proxies sync with the MAM. This approach reduces storage costs significantly and avoids the bottleneck of otherwise uploading high-res video to the Cloud, while allowing the MAM to manage all of a company's media.
3. Zoom Custom Cloud, a perpetual or managed service business model providing a full-service custom deployment mixing on-premises and Cloud infrastructure as needed for large enterprises. Key features include the ability to deploy MAM and Preview servers worldwide; Zoom Non-Stop for multi-database syncing and high availability disaster recovery; automatic proxy and mezzanine generation on ingest using integrations with leading hardware transcoders; seamless integration with archival solutions; and a rich set of APIs supporting hundreds of integrations with third-party solutions.
"Taking advantage of early technology decisions, we are able to deliver a secure, seamless and tightly integrated experience between the Cloud and on-premises environments straight out of the box," said Brian Ahearn, CEO at Evolphin. Ahearn continued: "A quick and easy deployment process has enabled us to secure 35 new Cloud customers each processing video workflows in the cloud and taking advantage of Zoom's deep Adobe plugin integration and proxy workflows."
William Wedig, Director/Editor, said, "Evolphin Wave has been a great tool for my workflow and reviewing cuts. It's cross platform viewable so viewing rough cuts on the go is easy and the uploads have been fast whether I'm home, at my office, or on location."
With the introduction of these new service offerings, Evolphin is uniquely positioned to address the needs of the end to end content production process irrespective of deployment model.
Additional information is available on our website https://evolphin.com/solutions/
About Evolphin and Zoom
Evolphin Software is an Enterprise Software company focused on Media Production and Collaboration with a global footprint and a suite of products and deployment models delivering a unique and highly functional approach to the creation, management and distribution of digital content.