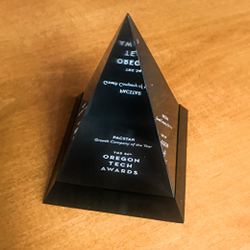 PORTLAND, Ore. (PRWEB) May 16, 2018
PacStar, a leading developer and reseller of advanced communications solutions, announced that it was named Technology Company of the Year for Growth by the Technology Association of Oregon (TAO) as part of the 2018 Oregon Technology Awards. These awards celebrate excellence and achievement within the region's vibrant technology community. The Growth award category recognizes the strongest, most consistent growth for an Oregon-based technology company over the past three years.
"This is truly an honor for PacStar and reflects the hard work and professional excellence of all of our employees. PacStar strives to deliver quality products and outstanding customer service to our customers with mission critical communications requirements," said Peggy Miller, CEO, PacStar. "This award recognizes the level of excellence that we have achieved and our company's strong growth over the past few years which has included multiple multimillion dollar contract wins from the U.S. Marine Corps Networking-On-The-Move (NOTM) program and the U.S. Army Transportable Tactical Command Communications (T2C2) program. I am so proud of our PacStar team and am personally appreciative of each and every one of our employees who made this recognition possible."
Now in its 34th year, the Oregon Technology Awards recognized the state's best companies thriving in technology by presenting awards in a number of categories. Awards include Technology Company of the Year, Influential Technology Company Not Headquartered in Oregon, Most Disruptive Technology and, new in 2018, People's Choice Award.
"PacStar is an excellent example of a company headquartered in Oregon with a great track record of strong growth and offering quality products to its customers around the world. Oregon's technology community continues to thrive and mature, and the companies honored by our awards are building the future of our state," said Skip Newberry, TAO President and CEO. "It is an honor to celebrate the leaders making an impact and the companies elevating the state's technology economy."
The winners of the 2018 Oregon Technology Awards were selected from a wide spectrum of industries within the various award categories. The awards ceremony hosted more than 600 attendees, including entrepreneurs and tech professionals from across the region and around the globe.
About Pacstar
Pacific Star Communications, Inc. (PacStar) is a leading technology-based systems integrator that delivers advanced, reliable and interoperable tactical and enterprise communications systems to the military, federal, state and local government agencies, as well as emergency responders. The company's patented IQ-Core® Software and hardware technology and integration/installation services provide secure, command, control and communications systems – particularly in remote or infrastructure starved areas. In addition, PacStar's unified and tactical network communications systems are ideally suited for commercial sector organizations with mission-critical, complex communications requirements. For additional information, please visit http://www.pacstar.com