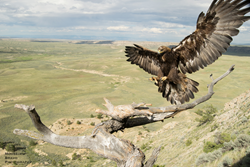 The saga we began unraveling in the Bighorn Basin went far beyond the golden eagle.
CODY, Wyo. (PRWEB) May 17, 2018
"The Monarch of the Skies exhibition is a natural addition to the Draper Natural History Museum," Dr. Charles R. Preston, Draper's Founding Curator/Curator-in-Charge explains. "It highlights our original research—and the research of a host of other experts in the field—in the broader context of exploring and celebrating the profound relationships binding people with nature in Greater Yellowstone and the American West. We're honored to share it with our visitors."
Opening June 10, the Monarch of the Skies installation is actually a permanent exhibit that Preston had in mind since golden eagle research began in 2009. "The saga we began unraveling in the Bighorn Basin went far beyond the golden eagle," Preston continues. "It encompassed the complex interactions among predator, prey, and environment, and the influence of human land use changes on these interactions."
The interdisciplinary and multidimensional exhibition is adjacent to the Draper's popular tile map of Greater Yellowstone and just outside the Draper Museum Discovery Laboratory. It includes elements of natural science, wildlife biology, archaeology, and Native culture—all enhanced with rich stories; natural history specimens; Plains Indian materials including a feather bonnet, talon necklace, and wing fan; interactive touch screens and audiovisual presentations; large, colorful graphic panels, and a wide selection of stunning, color images by Nick Ciarevella from Moosejaw Bravo Photography.
"The golden eagle is an apex predator in the Bighorn Basin east of Cody and other sagebrush-dominated landscapes that have been disappearing, shrinking, and changing during the last several decades," Preston continues. "Unfortunately, this iconic western landscape that once dominated much of the American West is often overlooked and undervalued in the shadow of the dramatic heights and 'gaudy majesty' of the Rocky Mountains.
"And the golden eagle is the fascinating and charismatic celebrity of this place," Preston adds. "It is also ecologically significant, providing a barometer for detecting environmental integrity and change."
In conjunction with the exhibition, staffers plan future related website content, online classroom modules, and a suite of educational programming based on Monarch of the Skies. Finally, the exhibition is a wonderful connection to the Center's highly popular Draper Museum Raptor Experience which now features eleven live raptors—including Kateri, the golden eagle—in both in-house and outreach programs.
For more information, visit the "Monarch of the Skies" exhibition page.
Since 1917, the award-winning Buffalo Bill Center of the West in Cody, Wyoming, has devoted itself to sharing the story of the authentic American West. The Center, an affiliate of the Smithsonian Institution, is currently operating its summer schedule, open daily 8 a.m. – 6 p.m. For additional information, visit the Center's website or its pages on Facebook and Google+.