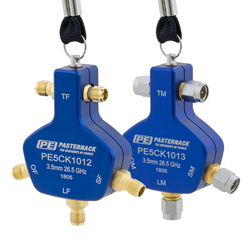 "We are excited to add these broadband kits to our growing line of test and measurement products. The 26.5 GHz calibration capability of these portable, lightweight packages will be a welcomed addition to our field test products," said Dan Birch, Product Manager
IRVINE, Calif. (PRWEB) May 17, 2018
Pasternack, a leading provider of RF, microwave and millimeter wave products, has released a new line of 4-in-1 3.5mm calibration kits for test and measurement, field testing, antenna measurement and cable verification applications.
Pasternack's new series of calibration kits consists of two models, both with a compact, lightweight, 4-in-1 design package. These short-open-load-through (SOLT) calibration kits have a 26.5 GHz calibration capability. They feature gold-plated 3.5mm connectors and a handy lanyard. Plus, they are available off-the-shelf and can be shipped immediately.
These SOLT calibration kits have an impedance level of 50 Ohms nominal. They also have a phase deviation of +/-2 degrees maximum and return loss of 30 dB minimum. They are ideal for telecommunications, military electronics, automotive, medical, aerospace and consumer electronics industries.
"We are excited to add these broadband kits to our growing line of test and measurement products. The 26.5 GHz calibration capability of these portable, lightweight packages will be a welcomed addition to our field test products," said Dan Birch, Product Manager.
Pasternack's new 4-in-1 calibration kits are in stock and ready for immediate shipment with no minimum order quantity. For detailed information on these products, please visit https://www.pasternack.com/pages/rf-microwave-and-millimeter-wave-products/4-in-1-calibration-26.5-ghz.html.
For inquiries, Pasternack can be contacted at +1-949-261-1920.
###
About Pasternack:
A leader in RF products since 1972, Pasternack is an ISO 9001:2008 certified manufacturer and supplier offering the industry's largest selection of active and passive RF, microwave and millimeter wave products available for same-day shipping. Pasternack is an Infinite Electronics company.
Press Contact:
Peter McNeil
Pasternack
17792 Fitch
Irvine, CA 92614
(978) 682-6936 x1174