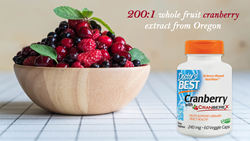 Doctor's Best Cranberry with Cranberex is a high potency formulation with 200:1 fruit ratio from Oregon cranberries that will benefit the many consumers who are seeking support for urinary tract health.
IRVINE, Calif. (PRWEB) July 10, 2018
Doctor's Best Inc., Science-Based Nutrition™, announced today the release of its new Cranberry with Cranberex® product for Urinary Tract Health.
Doctor's Best Cranberry with Cranberex® is an ultra-concentrated (200:1) whole fruit extract of Oregon Cranberries, known for their richness and quality. Our formulation is standardized to contain high potency Proanthocyanidins (PACs) derived from cranberries, that are responsible for the microbial anti-adhesion benefits. With 3 times the PACs as leading brands, Doctor's Best Cranberry formulation is an outstanding source of antioxidants and can also help support cardiovascular health.
"This high potency Cranberry formulation is power packed with 200:1 fruit ratio that will benefit millions of consumers seeking to improve their Urinary Tract Health, Men's as well as Women's." said Bill Damiano, VP of Sales.
Doctor's Best Cranberry with Cranberex® is a trademarked formulation, that has been clinically studied to ensure efficacy and potency. Doctor's Best Cranberry with Cranberex® is now available for sale to the public.
Please visit http://www.drbvitamins.com for more information to find retailers stocking this product.
ABOUT DOCTOR'S BEST
Founded in 1990, Doctor's Best is a science-based nutritional supplement company, offering more than 200 products, most made with branded ingredients, that are thoroughly researched and tested to the highest quality standards. For more information, contact 1-800-777-2474.