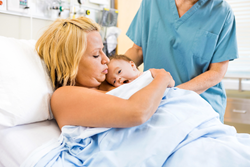 97% of maternal deaths related to hypertensive disorders of pregnancy occur within just six weeks of delivery, a time when most new mothers might think the danger has passed.
SANTA ROSA, Calif. (PRWEB) May 20, 2018
May is Preeclampsia Awareness Month and NCMA's Women's OB/GYN Medical Group joins with the Preeclampsia Foundation to help raise awareness. This year the foundation's efforts are on postpartum preeclampsia as 97 percent of maternal deaths related to preeclampsia and other hypertensive disorders of pregnancy occur within just six weeks of delivery, a time when most new mothers might think the danger has passed.
A woman can develop preeclampsia after her baby is born, regardless of whether she experienced high blood pressure during her pregnancy. With such alarming statistics related to postpartum preeclampsia, it very important that a new mother remain vigilant and continue to monitor her heart health and blood pressure even after delivery.
Understanding Preeclampsia
Postpartum preeclampsia is a serious condition related to high blood pressure. Women who have just delivered a baby are most at risk, although it has no effect on the baby. There is no known cause for preeclampsia to manifest in pregnant women. In many cases, women diagnosed with preeclampsia see symptoms abate following delivery, but the Preeclampsia Foundation emphasizes that 'delivery is not a cure'. In some cases, symptoms begin during pregnancy, but some patients may not be symptomatic until after the baby is born. Postpartum preeclampsia most commonly occurs within the first seven days after delivery although new mothers remain at risk for up to six weeks following delivery.
Know the warning signs
Early diagnosis and being vigilant to symptoms followed by quick response is imperative to saving lives. Symptoms include (and can be complicated by lack of sleep, postpartum depression and/or simple lack of awareness about the signs):

nausea
swelling in hands/feet
severe headache
seeing spots or other vision changes
shortness of breath
When a patient thinks they are experiencing warning signs of postpartum preeclampsia, the first thing to do is go to the Emergency Department, request to be seen by an OB, and report that they have recently given birth. The first seven days after delivery is when women who experience preeclampsia are at highest risk. Effectively controlling high blood pressure is key to avoiding very serious health risks that include; seizures, stroke, organ damage and sometimes death.
About NCMA Women's OBGYN Medical Group
The provider team of expert OB/GYN physicians, certified nurse midwives, family nurse practitioners, and medical assistants provides unmatched care to patients in our region. As women proudly serving women, we understand the needs and expectations of our patients. For more information, visit our website or call (707) 579-1102.