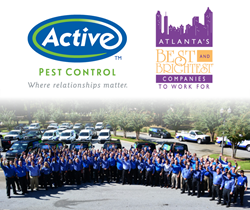 ATLANTA (PRWEB) May 17, 2018
Active Pest Control, a McDonough-based pest control provider, today announced that it has been named one of Atlanta's "Best and Brightest Companies to Work For" by the National Association for Business Resources. With 32 years of experience, Active Pest Control is one of the nation's top 50 largest pest control companies with branches throughout Georgia and Texas.
The Best and Brightest Companies to Work For® program recognizes companies that deliver exceptional human resource practices and have an impressive commitment to their employees. An independent research firm assessed the internal, anonymous survey results of each 2018 winning company's staff. Organizations were ranked in categories such as employee growth, engagement and retention, work-life balance, employee education, diversity and inclusion, recognition, community initiatives and more.
"At Active, our focus is relationships - relationships with our customers and relationships with our team members," said Tony Carder, CEO of Active Pest Control. "We're committed to finding and retaining people who serve as an extension of the Active brand and family in all the communities we serve. We couldn't be more proud of this recognition."
Every year, hundreds of companies compete to make it on the Best and Brightest Companies to Work For list, where they showcase their best practices and demonstrate why they are an ideal place for employees to work. Active joins other leading Atlanta businesses such as Emory Healthcare, NCR, Panasonic Automotive, and T-Mobile.
Active ensures that all company technicians and inspectors are trained, certified and licensed by the state of Georgia. Active is also committed to building relationships in the communities their employees serve whether it's supporting of economic revitalization in Columbus, fundraising for Children's Healthcare of Atlanta, providing food for Habitat for Humanity volunteers in Alpharetta, sponsoring a children's ride at a local Duluth family event, or teaming up with Shaquille O'Neal to hand out Christmas gifts in McDonough.
To learn more about Active Pest Control, visit http://www.activepestcontrol.com
About Active Pest Control:
Founded in 1985, McDonough Georgia-based Active Pest Control is one of the largest independent, privately owned, pest control companies in Georgia. The company operates 12 locations in Georgia and Texas offering residential and commercial pest control along with complete termite protection and wildlife exclusions. Active is committed to building relationships with the communities where it does business and is an active sponsor of the NASCAR Camping World Truck Series.