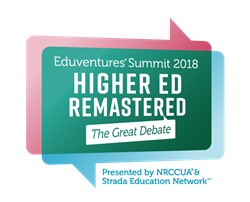 We have developed this year's agenda to highlight our commitment to access, fit, and career success for all students.
BOSTON (PRWEB) May 17, 2018
The National Research Center for College and University Admissions™ (NRCCUA®), an educational data science and research organization, today announces that Pulitzer Prize-winning historian and American presidential biographer, Doris Kearns Goodwin, will serve as a keynote speaker for Eduventures® Summit: Higher Ed Remastered, NRCCUA's 2018 annual summit with presenting partner Strada Education Network. MissionU CEO and co-founder, Adam Braun, and Carol D'Amico, executive vice president of mission advancement and philanthropy, with Strada and former assistant secretary of adult and vocational education, will also deliver keynote addresses during the conference, which is scheduled to take place at the Intercontinental Boston Hotel June 13-15, 2018.
The annual event provides a one-of-a-kind opportunity for leaders from higher education institutions and the partners who serve them to network with one another, share best practices, and engage in a discussion about the future of higher education. The program theme, Eduventures Summit: Higher Ed Remastered, captures both the timeless qualities of higher education and the need to create innovative models. Given the current state of higher education, this theme promises to stimulate debate and discussion on a variety of issues.
In addition to keynote speakers, Eduventures principal analysts will present new research and proprietary market data gathered and analyzed from thousands of student and adult learner surveys. The Eduventures research team will showcase Innovation Award Program winners, honoring higher education institutions, companies, and other organizations that share the Eduventures vision for a responsive, innovative higher education sector through programming that has impacted enrollment management strategy, teaching and learning, and student outcomes.
Plenary sessions and workshops are designed to address critical issues facing higher education leaders and shed light on answers to the following questions:

Will online learning continue to expand the degree market or boost degree alternatives?
How can enrollment offices adapt recruiting practices to reflect prospective undergraduate mindsets?
How do institutions convert adult learner mindsets into action through marketing, promotion, and recruitment?
With a goal of quantifying student success, how do institutions know if they are on track?
More about the keynote speakers:
Doris Kearns Goodwin - a world-renowned presidential historian, public speaker and Pulitzer Prize-winning author of six critically acclaimed and The New York Times bestselling books, including her most recent, The Bully Pulpit: Theodore Roosevelt, William Howard Taft, and the Golden Age of Journalism (November, 2013).
Adam Braun - New York Times bestselling author and the founder & CEO of MissionU. He was previously founder & CEO of Pencils of Promise, the award-winning organization that has built nearly 400 schools around the world.
Carol D'Amico - executive vice president, mission advancement and philanthropy, Strada Education Network and former assistant secretary for adult and vocational education at the U.S. Education Department. Co-author of "Workforce 2020: Work and Workers in the 21st Century," she is a nationally recognized expert in designing and leading strategies related to higher education, workforce development, and business-led involvement in education reform.
"We have developed this year's agenda to highlight our commitment to access, fit, and career success for all students," said Patrick Vogt, CEO of NRCCUA. "Eduventures Summit will continue to be one of the most important events for higher education leaders who are looking for strategic advice and guidance on new ways to enhance decision making, and we are thrilled to have Strada Education Network join us as the presenting partner for our 2018 Summit."
View the full Summit agenda here.
Members of the media who wish to receive a press pass for Eduventures Summit 2018 can contact Ellen Slaby at eslaby@eduventures.com.
About NRCCUA
The National Research Center for College and University Admissions is an educational data science and research organization serving over 1,800 member institutions comprised of public and private colleges and universities across the nation. For 45 years, NRCCUA has been a leading provider of data, technology, and programs serving students, high school educators, colleges and universities from its offices in Lee's Summit, MO, Boston, MA, New York, NY, and Austin, TX. These solutions represent the link between students making important life decisions and those providing the resources and information they need to succeed in their post-secondary educations and careers. With the launch of Encoura™ Data Lab, the company now combines data science, advanced analytics, research, predictive modeling and omnichannel enrollment services in one platform to enable institutions to make real-time strategic and operational decisions to meet their unique enrollment goals and create the highest probability of student success. For more information, visit Encoura.org.
About Strada Education Network
Strada Education Network is a national nonprofit dedicated to improving lives by catalyzing more direct and promising pathways between education and employment. We engage partners across education, nonprofits, business and government to focus relentlessly on students' success throughout all phases of their working lives. Together, we address critical college to career challenges through strategic philanthropy, research and insights and mission-aligned affiliates — all focused on advancing the universal right to realized potential we call Completion With a Purpose. Learn more at StradaEducation.org.