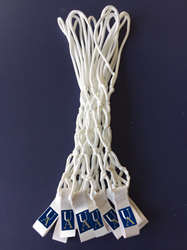 DETROIT (PRWEB) May 17, 2018
Poppersworld, Inc., is proud to announce that Learfield Licensing Partners has granted the company a license to produce its revolutionary basketball net featuring the University of Akron logo for fans and alumni.
Learfield Licensing Partners has been an industry leader for more than four decades, Learfield has a deep presence in the college athletics landscape nationwide. It manages the multimedia and sponsorship rights for 125 collegiate institutions, conferences and arenas, and supports athletic departments at all competitive levels as title sponsor of the prestigious Learfield Directors' Cup. Learfield also provides its collegiate partners access to professional concessions and ticket sales; licensing and trademark consulting; digital and social platform expertise; and venue and technology systems through its affiliated companies. For more information, visit http://www.learfield.com. Our association with Learfield will allow numerous schools to display their pride on basketball nets. The University of Akron logo on the Poppers® basketball net will soon be available for UA fans near and far.
Poppersworld, Inc., headquartered in Detroit, MI was created to manufacture Poppers® and other basketball related products. Poppers® is a revolutionary basketball net that enhances the sight, sound and mental satisfaction of the game. The patented Poppers® adds excitement for basketball fans because of its unmistakable popping sound every time the ball goes through the net, coming in contact with our unique leather strips attached at the bottom of the net. Our product is able to incorporate different logos for any given collegiate team. The college logo displayed on the Poppers® net helps to invoke pride of the fans who love their school. Fans are able to display their pride on basketball rims in their very own driveway for all to see.
Poppers® have made their debut in gyms and recreation centers around the world to the delight of young amateur players and the pros. Players at all levels can enjoy the game that much more when their shot meets a Poppers® net. That's why we say "Pop! Pop! Pop!® Let 'em hear it!®"
For product information or to learn more about how your school can have its own Poppers®, contact Poppersworld Executive Sales Manager Kelvin Rice at kelvin@poppersworld.com or visit http://www.poppersworld.com.