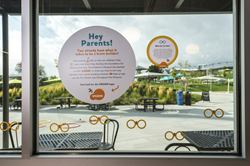 Together, Vroom and ACM have developed a complete set of easily produced, low-cost resources tailor-made for children's museums, including Vroom decals and professional training materials
RALEIGH, N.C. (PRWEB) May 17, 2018
Today, the Association of Children's Museums (ACM) and Vroom, an initiative of the Bezos Family Foundation, announced a partnership to bring Vroom's brain-building resources to children's museums around the country.
Research in early neurological development shows that the first five years of a child's life is an especially critical period of brain development. During a child's earliest years, their brain makes more than one million new neural connections every single second. Positive, meaningful experiences with parents and other caregivers are critical to help children meet their full potential. Vroom translates cutting-edge science into actionable tips for parents as a way to support learning and bonding with their children.
"We know that parents and caregivers can greatly benefit from proactive support to help them understand their children's development," said Laura Huerta Migus, Executive Director of ACM. "Vroom's resources offer accessible, actionable, and fun ways to support early childhood development, reflecting children's museums' innovative approach to learning. We're so excited to share Vroom's resources with the millions of children and families that visit children's museums every year."
The partnership with Vroom was announced at ACM's annual conference, InterActivity, the largest gathering of children's museum professionals in the world, providing a springboard for sharing Vroom and ACM's partnership with the field. Together, Vroom and ACM have developed a complete set of easily produced, low-cost resources tailor-made for children's museums, including Vroom decals and professional training materials. The materials feature content from Mind in the Making, a program of the Foundation that fosters executive function life skills in children. The new, nationwide partnership applies lessons learned from a successful 2016 pilot program at the Children's Museum of Denver at Marsico Campus.
"Through this collaboration with the Association of Children's Museums, we will be able to support more families across the U.S. and the globe in giving their children the best possible start in life," said Jackie Bezos, President and Co-Founder of the Bezos Family Foundation. "Vroom was designed to help all parents and caregivers recognize they already have what it takes to support their child's development by turning shared moments into brain-building moments."
Through this newly formed partnership, Vroom will be available to ACM's more than 300 member museums to integrate within their spaces.
In addition to sharing Vroom resources with children's museums, Vroom has more than 1,000 brain-building tips in English and Spanish, each paired with a science-based "Brainy Background" so parents understand the value of the activity. Tips can be accessed for free through the Vroom app, as downloadable resources and in video form.
About ACM
The Association of Children's Museums (ACM) champions children's museums worldwide. With more than 400 members in 48 states and 20 countries, ACM leverages the collective knowledge of children's museums through convening, sharing and dissemination. Learn more at http://www.childrensmuseums.org.
About Vroom
Vroom was developed on the premise that every child is born with enormous potential and every parent has the ability to help them realize that potential. Vroom translates leading research on early brain development into meaningful and actionable activities for families. Vroom has 1000+ free bilingual tips that are easy, interactive things parents can do in the time they already share with their children that don't require additional time or money. Visit http://www.vroom.org and follow @joinvroom for more information.