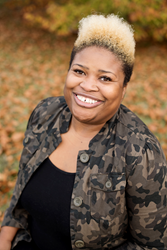 SunDayPride.com is a refuge for anyone who feels unworthy of God's love because of their past, their sexuality or what others have made them believe about themselves.
BALTIMORE (PRWEB) May 22, 2018
According to a recent CNN story about Juan Carlos Cruz, a victim of clerical sexual abuse, (see link below) Pope Francis told Juan that God made him gay. In describing his Vatican visit to CNN, Cruz says he was told by the Pope that his sexuality does not matter, that God made him like this, loves him as a gay man, and that he should love himself and not worry about what people say.
These very favorable comments attributed to the Pope are being embraced by the LGBTQ community and coincide with the unveiling of Ruby "Sunshine" Taylor's new website whose mission is to spread hope, acceptance and God's love to the LGBTQ community. Viewing Francis' comments as a sign of inclusion, and his desire to make gay people feel welcomed and loved in the catholic Church, Taylor is motivated and encouraged to share her powerful message of God's unfailing love beyond church boundaries.
Feeling unworthy of God's unconditional love and hiding her authentic self so she would be accepted by her family and church, it took a brain injury to become the catalyst for Ruby's discoveries about God's true love. Refusing to be silenced or shamed, and inspired by her personal journey, her traumatic past, and her sexuality, Ruby created SunDayPride.com to help LGBTQ people live their own truth in the light of God's love.
SunDayPride.com is a refuge for anyone who feels unworthy of God's love because of their past, their sexuality or what others have made them believe about themselves. This online community for LGBTQ people, their loved ones and allies, offers inspiration, an opportunity for sharing and promotes hope, acceptance and God's love for everyone.
"Our free website invites experts and everyday people to share their spiritual wisdom and experiences, gives the LGBTQ community a voice and acknowledgement, and ensures that our voices won't be silent," Taylor explained.
Website visitors will find inspirational interviews, resources, articles and weekly SunDayPride messages. The site's launch features an inspiring interview with Crystal Cheatham, founder of Our Bible App, a progressive app for Christians who are LGBT affirming, pro women, and center people of color. In the interview, Cheatham shares her own coming-out journey and the events that led her to search for a community and interpretation of the Bible that made sense for her. Taylor is also an inspiring and thoughtful speaker who presents workshops across the US on God's love for all, grief and healing, and girl empowerment. She plans to share her inspirational messages through the site, presentations and in her new book The Book of SunShine: A Personal Journey Through Faith, Sexuality and Trauma, available for order on SunDayPride.com.
To lead a movement that celebrates same gender loving, trans-loving, bisexual-loving and queer-loving relationships, SunDayPride.com promotes a call to action: If you are in a loving LGBTQ relationship and/or you support our right to love and be loved, share the hashtag #IAmChristianToo.
According to Taylor, "Everyone has the right to love and to be loved, and everyone deserves God's unfailing and unconditional love. No matter what obstacles you face in life, you will get through the difficult times and the sun will shine again. Yes, I love you, but God loves you best!"
Story link: https://www.cnn.com/2018/05/21/europe/pope-francis-gay-comments-intl/index.html
###
About Ruby "Sunshine" Taylor
Born and raised in the Bronx, New York, with strong southern roots in North Carolina, Ruby L. "Sunshine" Taylor, MSW, gained the nickname "Sunshine" from her mother and has been empowered by remarkable resilience in the face of overwhelming adversity. Surviving sexual abuse, a speech impediment, her brother's murder, a traumatic brain injury, and the process of coming out as a lesbian at 39-years old, her incredible spirit has been sorely tested. Through these struggles, Taylor demonstrates that digging deep, facing one's truths, and embracing God's unconditional love will ultimately help one thrive and find the sunshine that awaits.
A graduate of Howard University and Virginia Union University, Taylor lives in Baltimore, MD and Lancaster, PA with her partner and two children. On a mission to spread God's love for ALL, Taylor is a nationally acclaimed speaker known for high-energy presentations laced with gracious humor and numerous do-it-now tools that ensure maximum takeaway value. For more information visit http://www.sundaypride.com.