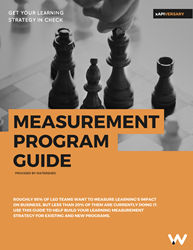 As part of the team that first created xAPI, we're thrilled with xAPI's continued success and progress during the last five years.
NASHVILLE, Tenn. (PRWEB) May 21, 2018
Watershed, the leader in learning analytics platforms, is awarding three learning analytics prizes to learning and development practitioners—a one-year license of Watershed CLO Learning Analytics valued at $52,500 and two on-site custom consulting packages valued at $3,800 each.
"Designing a learning measurement strategy with xAPI takes time and planning, and getting started can often be the hardest part," says Mike Rustici, CEO and founder of Watershed. "That's why we're sharing a guide to help you prepare and build your own xAPI-enabled measurement strategy. In completing the guidebook, not only will you have a helpful blueprint for implementing your strategy, but you'll also have the chance to earn prizes."
The Project Guide: Evaluate what you have before you get going.
To recognize xAPI's five-year anniversary, Watershed recently celebrated xAPI xAPRIL—which included five weeks of xAPI resources and case studies from Behr Process, Caterpillar, Verizon, Quicken Loans, and PwC to help fellow L&D practitioners build their own learning measurement strategies.
However, before L&D practitioners can start building learning measurement strategies, they first must know why they're building it, what they're building it on, and what tools they'll be using. To ease this process, Watershed created a guidebook that helps practitioners identify and implement their own plans. This guide draws from Watershed's Seven Steps of Learning Evaluation and can be used regardless of the tools or vendors an organization already works with.
The guide covers five areas that help:

Align program goals with organizational priorities.
Define appropriate metrics for effective measurement.
Discover existing successes and failures.
Design how program metrics will be captured, aggregated, and displayed.
Monitor progress and success of existing and future programs.
Learning Measurement Project Entry Guidelines
Completed project plans must be submitted by June 15, 2018, by 11:59 p.m. CT at for a chance to receive one of three prizes:

The most complete and actionable guide will be selected to win a one-year CLO license of Watershed Analytics. Two additional winners will each receive an on-site custom consulting package suited to their organizational needs. Visit the official entry page—xAPIxAPRIL.com—to learn more, download the guidebook, and submit entries.
About Watershed
Watershed is dedicated to changing the world of learning by helping corporate L&D departments get more from their initiatives. This includes a customizable learning analytics platform that measures training effectiveness and helps maximize investments in learning. Made possible by xAPI, Watershed enables users to explore their learning data in one place and measure how L&D programs impact their organizations. Watershed has worked with clients such as Visa, Caterpillar, Verizon, and PwC, just to name a few.