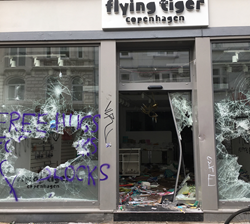 The fact of the matter is that there is always at least the small possibility of a crime pretty much anywhere a property may be located.
LOS ANGELES (PRWEB) May 24, 2018
A May 1 article at Westword provides detailed information on which parts of Denver suffered the most incidents of criminal activity during the first three weeks of April. The information comes in the wake of an overall increase in crime during the spring of 2017. Areas with the highest number of reported illegal acts, ranging from larceny and aggravated assault to public disorder and offenses related to drugs and alcohol, were led by Five Points and Civic Center. United Protective Services LLC, a security firm, says that owners and managers of properties located in higher crime areas may need to be particularly careful to employ every practical means to assure the safety of property and people. However, the firm adds that doesn't mean that businesses located in less crime prone areas are not vulnerable to all kinds of issues.
The fact of the matter is that there is always at least the small possibility of a crime pretty much anywhere a property may be located. Indeed, the vast majority of illegal acts are what most people would consider petty violations that can happen almost anywhere, but they can still pose a real threat, says United Protective Services. While none of us tremble at the thought of youngsters attempting a "five finger discount" to procure a candy bar or soda, minor losses can add up over time and present a major problem for owners of mom-and-pop shops and big box stores alike. The same applies to even relatively benign vandalism, says the security firm. After all, even if the perpetrator is not posting a gang tag but just "Jason loves Jennifer," it still costs a business money and time to cover up the graffiti while potentially lowering the esteem visitors might have in a business. Over time, this sort of issue can definitely chip away at a business's profit margin, says the firm.
Of course, there is a more serious type of danger associated with gang graffiti and the activity that can be related to this sort of quality of life violation. United Protective Services notes that, whether an owner or manager is concerned for the physical safety of employees and customers, or is merely worried that rampant shoplifting is harming the bottom line, employing well trained and experienced uniformed security guards is an outstanding preventative measure. The service notes that the mere presence of an imposing person in a uniform will tend to discourage even relatively hardened bad actors.
Interested readers may get in touch with United Protective Services LLC by calling 303-747-6434. The public can also visit the firm's web site at https://www.unitedprotectiveservicesllc.com/.