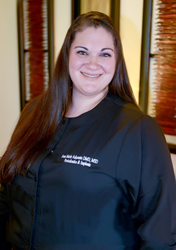 LIVERPOOL, N.Y. (PRWEB) May 17, 2018
Dr. Ann Marie Adornato is now the first clinician in Onondaga County certified in the LANAP® protocol to treat gum disease and LAPIP™ protocol for ailing dental implants. Dr. Adornato is at the forefront of the future of dentistry, treating patients in Liverpool and the surrounding region with the world's first and only FDA cleared laser treatment to re-grow bone.
"It was important to me to bring the LANAP and LAPIP protocols to my home in Upstate New York because of its effectiveness in treating gum disease and infected dental implants, with reduced pain for patients," states Dr. Adornato. "My goal is always to improve my patients' health while also bearing their needs in mind."
Periodontal disease, or gum disease, can be mild or severe. Early warning signs can be red or sensitive gums. Advanced signs include chronic bad breath and loose teeth. LANAP treatment uses the PerioLase® MVP-7™ dental laser to target the bacteria and endotoxins causing gum disease. The laser energy vaporizes diseased tissue without harming or removing any healthy gum tissueand allows the body to recover from the chronic infection without the need for scalpel or sutures.
"Before now, patients in Syracuse and surrounding towns only had cut and sew techniques to treat their gum disease, or have their dental implants removed," Dr. Adornato continues. "With advanced laser technology, we can even treat patients on blood thinners without removing or reducing their medication. Most patients can return to daily activities immediately, without opioids."
For information on the LANAP and LAPIP protocols, call (315) 451-7151or visit http://oralhealthny.com for an appointment.
About Dr. Adornato
Dr. Ann Marie Adornato, has strong ties within the Syracuse area. She grew up in a large family of 10 children. Her father was a prominent and well-respected Neurosurgeon.
Dr. Adornato went on to the State University of New York at Buffalo where she graduated Cum Laude in Biological Sciences in 2004. Upon graduation, she was accepted into the prestigious Case Western Reserve School of Dental Medicine in Cleveland, Ohio, where she graduated with her Doctor of Dental Medicine (DMD) degree in 2008. Thereafter, she moved to Chicago and successfully completed her General Practice Residency to gain advanced training in General Dentistry and Dental Implants.
Wanting to fulfill her lifelong dream of completing advanced studies, she returned to Case Western Reserve University for her Periodontal Surgery Residency. She graduated with her Masters of Science in Dentistry (MSD) in 2016.
Dr. Adornato is very honored to be back in her hometown to serve the community that she loves and cherishes. She is married to her husband Philip, with three children and a chocolate lab named Mocha.