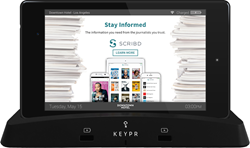 "We are thrilled to partner with KEYPR to bring Scribd to hotel guests around the world. This partnership opens up opportunities for us to reach new readers and offers an enriching alternative to other in-room entertainment options." -Scribd VP of Business Development Rama Sadasivan
LOS ANGELES (PRWEB) May 17, 2018
KEYPR®, the enterprise technology company whose cloud-based platform is the leader in guest experience and staff optimization, announced today that it has partnered with Scribd, the premier digital reading subscription service, to offer its library of more than 1 million of the best ebooks, audiobooks, and magazines to hotel rooms worldwide.
Scribd VP of Business Development Rama Sadasivan said, "We are thrilled to partner with KEYPR's diverse and expansive hotel network to bring Scribd to hotel guests around the world. This partnership opens up opportunities for us to reach new readers and offers an enriching alternative to other in-room entertainment options like TV and radio."
In keeping with KEYPR's commitment to delivering rich and hassle-free content integrations, the Scribd app will be preloaded onto in-room tablets. Upon signing up for the service, guests will have instant access to bestselling and award-winning books and audiobooks like A Higher Loyalty by James Comey or The Handmaid's Tale by Margaret Atwood, as well as leading magazines like Bloomberg Businessweek, TIME, and People.
"We are excited to add Scribd and its impressive library to our growing portfolio of content partners," said KEYPR COO Mark Anderson. "The Scribd library is a natural fit for guests who are already using the in-room tablets to look for entertainment, and an integration like this will only drive additional platform engagement."
Scribd is now live across the entirety of KEYPR's hotel and luxury residence network.
About KEYPR
KEYPR® is the broadest cloud-based guest experience and management platform available for hotels, casinos and residential properties. The platform delivers a friction-free personalized guest experience, while creating new operational efficiencies and driving additional revenue opportunities for property owners. Guests can access a directory of services, including dining, entertainment, third-party content and more through an in-room tablet and custom mobile app. The app also allows guests to bypass the front desk via keyless entry. Additionally, owners and managers gain valuable insight through the integrated dashboard (GEMS®) and intuitive tools that provide visibility into guest needs before, during and after their stay--all while easily monitoring operational KPIs across multiple properties. For more, visit http://www.keypr.com.
About Scribd
Scribd is the premier reading subscription, offering monthly access to the best books, audiobooks, news and magazine articles, documents and more for $9 per month. Scribd is available across iOS and Android devices, as well as web browsers, and has logged over 150 million reading hours. Scribd has more than 750,000 paying subscribers and hosts more than 100 million active readers across the globe every month. For more, visit http://www.scribd.com and follow Scribd on Twitter and Facebook.