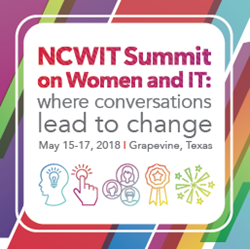 "When our expansive network comes together each year at the NCWIT Summit, they do more than talk about the problems. They form partnerships and encourage each other to persist towards sustainable results." ~NCWIT CEO and Co-founder Lucy Sanders
DALLAS (PRWEB) May 17, 2018
The National Center for Women & Information Technology (NCWIT) is holding its annual "NCWIT Summit on Women and IT: Where Conversations Lead to Change" May 15-17, 2018, in Grapevine, Texas. At this three-day event (ncwit.org/summit), more than 725 change leaders from the NCWIT community of educators, entrepreneurs, corporate executives, and social scientists convene to focus on improving inclusion and diversity in computing.
Main events are available to watch at http://www.ncwit.org/livestream.
The speaker lineup of renowned experts and special guests includes:

W. Kamau Bell, Socio-political Comedian and host of CNN's "United Shades of America"
Lorinda Cherry, NCWIT Pioneer in Tech Award Recipient
Lise Eliot, Professor of Neuroscience, Chicago Medical School, Rosalind Franklin University of Medicine and Science
Jackson Katz, Director of MVP Strategies and Creator of the acclaimed "Tough Guise" docuseries
Ariana Richards, an internationally noted artist and actress, known especially for her role as "Lex" in Jurassic Park
"Our community of change leaders is fueled by their adoption of effective, research-based strategies that facilitate reform in computing classes and technical organizations," said NCWIT CEO and Co-founder Lucy Sanders. "When our expansive network comes together each year at the NCWIT Summit, they do more than talk about the problems. They form partnerships and encourage each other to persist towards sustainable results."
Additional headlining presenters include:
Dr. Sarmila Basu, Senior Director, Microsoft
Jeff Forbes, Associate Professor of the Practice of CS at Duke and Expert at NSF
Daron Green, Director, Research Operations and Academic Relations, Facebook
Mike Hess, Founder and Executive Director, Blind Institute of Technology
Donald Kossmann, Distinguished Scientist and Director, Microsoft Research, Redmond Lab
Rachel Kutz, VP-Strategic Initiatives-Global Supply Chain, AT&T
Vicki Mealer-Burke, Vice President and Chief Diversity Officer, Qualcomm
Yvonne Melton, Program Manager, Computer Science Education, Google
Vicente Ordonez, Assistant Professor of Computer Science at the University of Virginia
Rose Schooler, Vice President and GM, Internet of Things Group Sales, Intel Corporation
Bobby Schnabel, Professor, Computer Science, University of Colorado Boulder
Renee Wittemyer, Sr. Lead for Tech Innovation, Program Strategy, Executive Office of Melinda Gates
Janice Zdankus, Vice President, Quality, Hewlett Packard Enterprise
View the full 2018 Summit agenda (ncwit.org/summit/agenda) for more event highlights.
Awards ceremonies and plenaries will stream live via the NCWIT website (ncwit.org/livestream) and the NCWIT Facebook page, giving change leaders for women in tech in remote locations access to these inspirational acknowledgements in real time. Videos and presentations will be available following the conclusion of the Summit (ncwit.org/summit/archives).
We'd like to give a huge thanks to our Media Partner Facebook for production and for making the livestream possible. We are also grateful to 2018 NCWIT Summit Sponsors Anchor Point, Autodesk, Johnson & Johnson, Palo Alto Networks, and PNC.
About NCWIT
The National Center for Women & Information Technology (NCWIT) is a non-profit community of more than 1,100 universities, companies, non-profits, and government organizations nationwide working to increase girls' and women's meaningful participation in computing. NCWIT equips change leaders with resources for taking action in recruiting, retaining, and advancing women from K–12 and higher education through industry and entrepreneurial careers. Find out more at http://www.ncwit.org/summit.
NCWIT receives significant financial support from Lifetime Partner Apple; Strategic Partners NSF, Microsoft, Bank of America, Google, Intel, Merck, and AT&T; as well as from Investment Partners Avaya, Pfizer, Bloomberg, Hewlett Packard Enterprise, Qualcomm, and Facebook. View all of NCWIT's supporters at http://www.ncwit.org/about/supporters.