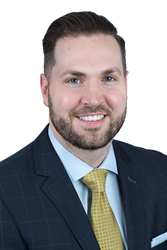 I've always been fascinated by how psychology overlaps business, motivation, and the way we view success.
ATLANTA (PRWEB) May 18, 2018
SignatureFD, a leading privately held financial design and advisory firm, is pleased to announce the addition of Jordan Hutchison as Advisor. In his role, Jordan will bring expertise in strategic financial planning, as well as a passion for delivering customized solutions that help clients lead purposeful and fulfilling lives.
"I've always been fascinated by how psychology overlaps business, motivation, and the way we view success," Hutchison said. "SignatureFD understands that life is about more than just finances. That's a really important distinction because my job is ultimately all about helping clients make financial decisions that are aligned to their dreams, goals and values."
For over 8 years, Jordan has managed relationships with high-net-worth and multi-generational families as well as designed investment strategies for institutional investors and individuals. He is the recipient of Atlanta Magazine's Five Star Wealth Manager Award and previously served as an advisor at JOYN®, Sagemark Consulting℠ and LPL Financial, LLC.
Hutchison also brings to the team a rich understanding and experience in behavioral finance that strengthens his ability to facilitate significant life discussions and complements his skills as a strategic financial advisor. Hutchison earned his bachelor's degree in psychology from the University of Montevallo and a master's degree in financial planning and counseling from the University of Alabama. Recently Hutchison completed Executive Education from the Wharton School at the University of Pennsylvania. He is currently pursuing a doctorate in management from Saint Leo University with a research emphasis in the academic of choice architecture and decision making.
Jeff Peller, Co-Founder and Chief Executive Officer of SignatureFD, believes Hutchison will be a strong asset to SignatureFD's financial design team. "Jordan's passion for developing strong, substantial relationships with clients and his hands-on approach to understanding their values and vision make him uniquely capable of empowering clients to make purpose-driven financial choices that factor in all elements of their lives."
View Jordan's complete bio here.
At SignatureFD, we believe that people want to make an impact with their wealth - their time, their money and their relationships. SignatureFD is a purpose-driven financial design company that helps clients design their financial futures to maximize their impact. Founded in 1997, SignatureFD provides comprehensive financial services, decision-support, specialized communities and resources that are delivered with fee transparency and objective, independent advice. For more information, visit: https://www.signaturefd.com/