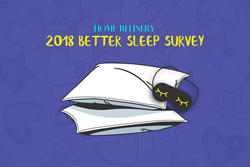 More than twenty percent of women reported having been turned-off by a low-quality mattress at some point in their lives
(PRWEB) May 22, 2018
The Home Refinery has recently published the results of their Better Sleep Survey and is excited to share some of the more shocking results. Among many other questions, this survey describes the impact of physical exercise on sleep quality, how one's children may impact sleep, and even how a quality mattress may improve your sex life! The initial results of this survey are available on the Home Refinery website here:
https://www.homerefinery.com/better-sleep-survey/
Home Refinery's Better Sleep Survey ran between March 1st and April 30th and received more than 500 responses from online readers. The stated goal of this survey was to "better elucidate the common lifestyle habits and preferences among those reporting higher quality sleep," as described by a member of the Home Refinery Editorial team. Respondents were asked a series of questions through an online questionnaire ranging from their favorite type of mattress to the amount of exercise they participate in each week.
Mariella Gavin, a member of the Home Refinery's editorial team, expressed her excitement over the sharing of the initial results from this survey.
"Our site has published a lot of mattress reviews in the past few months with the mission of helping consumers better understand their options. We felt that our focus on this subject matter still left a bit to be desired, concerning achieving our end goal of helping the average consumer find the best mattress possible, and the Better Sleep Survey was all about filling in the gaps. We've had the opportunity to review some of the best memory foam mattresses on the market, but that doesn't necessarily mean everyone is going to sleep better with that choice. The Better Sleep Survey was about casting a wide net to understand better the common habits and preferences among people reporting the best sleep."
Mariella shared some of the more interesting questions, along with their results, to offer a better insight into the nature of the Better Sleep Survey:
"We plan on really diving into the results over the next couple of months to better describe common habits that may impact sleep. These initial results are about sharing some of the more in-your-face type correlations we found. For example, we found that more than twenty percent of women reported having been turned-off by a low-quality mattress at some point in their lives! This question was added after some of our initial polling found several women expressing the connection between quality mattresses and their interest in sexual activity. Another set of results that shocked us were those describing the impact of children, the number of children to be specific, on quality of sleep. Our results showed that the total number of children didn't have any significant influence on overall sleep quality. The one exception—those reporting five kids seem to be sleeping worse! We're still trying to understand that result better."
The Better Sleep Survey also consisted of several series of lifestyle, dietary, and health-related question sets. The HomeRefinery, having expressed an affinity for all things related to sleep, feels that current scientific research makes a strong case for connecting healthy lifestyle choices and overall sleep quality. Mariella expanded on the designer thinktank's perspective on the topic:
"Our entire team has personal experiences that have shown us the impact that healthy lifestyle choices have on our overall quality of life. Eating non-processed food, exercising regularly, and getting an adequate amount of sleep are all pretty much no-brainers when it comes to feeling better. We wanted to try and get some better insights into the impact of less obvious lifestyle habits, personal preferences or life circumstances that may have a significant impact on overall well-being. A few questions that helped describe some more nuanced possibilities were those that inquired about our respondent's use of dietary supplement sleep aids, favorite sleeping positions, allowance of pets in their beds, and their choice of ambient noise each evening. We all hold a strong belief that sleep is a core determinant of overall wellness. The Better Sleep Survey was designed to help better understand how one might get better sleep but with the true end goal of describing how one might feel better overall."
About the HomeRefinery
The Home Refinery is a collective of home goods industry insiders that have been working alongside some of the largest names in furniture, interior design, and homemaking for decades. Their website shows a strong focus on helping readers find better options for mattresses, espresso machines, and many other consumer goods through articles and buying guides aimed at simplifying the entire process. Examples of their efforts are evident by their published guide Mattress Buyer's Guide: Secrets Not Shared by Mattress Brands, their Guide to Bed & Mattress Sizes, as well as their article detailing the differences between California King vs. Regular King sized beds and mattresses.