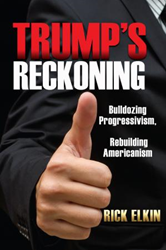 Americans are worried about their country
ESCONDIDO, Calif. (PRWEB) May 19, 2018
Within the pages of Trump's Reckoning: Bulldozing Progressivism, Rebuilding Americanism ($46.99, hardcover, 9781545634349; $27.99, paperback, 9781545634332; n/a, e-book, 9781545634356), readers will discover the cause and effect of the election of Donald Trump, and how many cultural anomalies contributed to it.
"It illustrates the confluence of historical events that have brought us to this point, the lack of a unified effort to protect our way of life and the urgency we should feel to rebuild Americanism," Rick Elkin says. "Americans are worried about their country."
The book features personal anecdotes about why America must recognize the fight it is in to preserve our God-given rights and Americanism.
"The truth is Trump may not be defining the new Republicanism, but he has definitely shown that the old guard is increasingly irrelevant," the authors states. "Donald Trump has shown that having a command of legislative and foreign relations is not particularly important. What his supporters are indicating is that they like his commitment to America first, his strong support of law and order, and his unflappable defense of Americanism."
Rick Elkin has had a lifetime interest in the media while studying radio and television production at California State University in Long Beach, California. His previous books include Turn Right At Lost: Recalculating America and The Neighbor Hood Hijacker: The Heroic Effort to Stop the Plundering of Our Community.