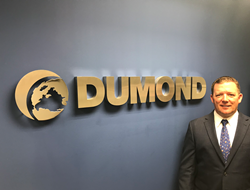 WEST CHESTER, Pa. (PRWEB) May 18, 2018
Dumond Chemicals, Inc. has been buzzing with talk of one of their greats coming back to roost, as a key player on the new management team, joining the recently appointed new president, Richard W. Grear IV, and the buzz is confirmed. Paul Deniken will join the new management team as V.P. of Sales, and the Dumond team couldn't be happier about his return in this exciting time of growth for the company.
Dumond Chemicals, Inc. is in the midst of a massive international expansion, and Deniken will be their key player for growth in the USA, South America and beyond. Having spent several years with Dumond Chemicals as the National Business Development Manager, as well as many years of experience working for large manufacturers in the construction and industrial markets, Deniken is teed up to deliver the results for which he has widely earned his seasoned reputation.
Since its founding in 1981, Dumond Chemicals Inc. has continually revolutionized the paint and coatings industry, on the principles of providing environmentally responsible products in a user-friendly, cost-effective manner. Headquartered in West Chester, Pennsylvania, Dumond Chemicals, Inc. creates innovative solutions in the areas of paint removal, stone and masonry care, graffiti control, and lead abatement/encapsulating products. Additional Dumond Chemical Inc. brands, including Smart Strip, Watchdog graffiti control products, Safe n Easy stone and masonry care, and Lead Stop products, are available through an international network of distributors, offering a complete solution for the DIY, professional, and industrial consumer.
For additional information, visit http://www.dumondchemicals.com or call +1(609) 655-7700