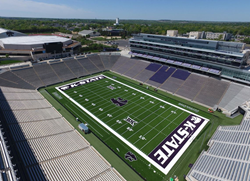 The new surface will greatly enhance our student-athlete performance on the field as well as the viewing experience for our fans and television viewers across the country
MANHATTAN, Kan. (PRWEB) May 17, 2018
When Kansas State made the decision to replace their football turf at Bill Snyder Family Stadium they elected to stay with AstroTurf as their preferred synthetic turf provider. KSU also elected to install one of the most technologically advanced products on the market today, AstroTurf RootZone 3D3 made with the new Trionic fiber.
AstroTurf, the inventor of artificial turf and a well-known innovator in the industry, has installed a fiber at Kansas State that is a feat of chemical engineering never before achieved in the history of the synthetic turf industry. Trionic is the only fiber on the market that blends polyethylene and nylon molecules into a single fiber. The result is a fiber that is more resilient and stronger than polyethylene, while being much less abrasive than nylon. Not only will KSU receive a superior fiber but they will also be installing AstroTurf's RootZone system, which is the top choice for athletes and field owners alike. The RootZone is a texturized layer of fibers that draws down to encapsulate infill, resulting in minimal rubber splash, better shock absorbency, and less infill migration than basic systems.
"We couldn't be more excited about opening play on our new AstroTurf field this fall," said Gene Taylor, Kansas State Athletic Director. "Every school wants their stadium to be a showplace and this field is going to be the beautiful centerpiece to our great facility. The new surface will greatly enhance our student-athlete performance on the field as well as the viewing experience for our fans and television viewers across the country."
The field has a similar design to KSU's previous field, utilizing the Wildcat logo at mid-field and the university's traditional Royal Purple color in the end zone. One new addition is the Big 12 logos on each side of the field.
Since 1990, Kansas State has been a very difficult place for opponents to play as the Wildcats have been dominant at home. They have recorded a record of 144-36-1 which translates into a .798 winning percentage. The Wildcats hope to continue their home field advantage when they open up season play September 1st against the University of South Dakota and again for their Big 12/SEC showdown with Mississippi State at home on the following Saturday. The University of Texas will be the first Big 12 opponent to visit Manhattan and play on the new field when they come to town on September 29th.
About AstroTurf:
For athletes and sport enthusiasts, AstroTurf® has redefined the way the game is played. The brand offers advanced, state-of-the-art, multi-sport and specialized synthetic turf systems with proprietary engineered technologies. A growing number of high schools, colleges, professional sports teams and municipalities continue to select AstroTurf-branded products for their premium quality, technical superiority, and safety. To learn more, visit AstroTurf's website at http://www.astroturf.com.