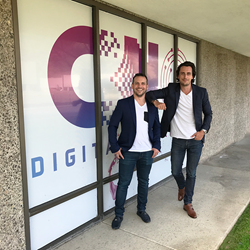 The digital space is constantly evolving and we are committed to staying in the forefront of these changes to better serve our clients.
SAN DIEGO (PRWEB) May 21, 2018
Both French, Giovanni Letellier and Clement Connor come from different business backgrounds. They met in San Diego in 2014 and became friends, not knowing this friendship would evolve into a successful business partnership.
Clement had a proven record of successful enterprises built on transparent customer relationships and aggressive business development.
Giovanni had moved from Canada to SoCal nursing the idea of launching a marketing agency that would use advanced technology to reach and exceed clients' goals.
It was all in the timing and made perfect sense to team up, so it could happen. Thus was created CNG Digital Marketing, Clement N Giovanni.
To get started, they needed an office. Starbucks coffee shop was the place that fueled their energy (caffeine may have played a role). Their goal? To revolutionize online marketing by helping businesses grow, though as a partner more than an agency in the classic sense.
In 2017, they moved into a beautiful space located in Sorrento Valley – the New Silicon Valley - in the heart of San Diego tech companies turf. The modern 4,000 sq ft office houses the team that works on new business development and projects yet to be publicly revealed.
In 2016, CNG gave life to a sister company that focuses more on medium to large businesses: SiO Digital, an AI-powered and data-driven marketing agency. Giovanni transferred his responsibilities as CEO of CNG to Clement and took the role of Chief Strategist, so he could dedicate more time to SiO's growth and future projects.
Starting small, with big ideas and a venti latte, they built two complementary entities from scratch and have recruited 15 team members, reaching 3 million dollars business valuation.
"The opportunity to move has allowed us to find new talents, while also working closely with larger companies," Clement says.
The founders believe that digital marketing evolves constantly, and marketers must redefine strategies to adapt and tailor to businesses' needs.
They are talented innovators, visionaries, who understand the limits of traditional marketing better than anyone, and who have the drive to adapt and outpace the demands of today's digital space.
"I wanted to change the way people see marketing agencies by implementing data-driven strategies. We did it, we are implementing it, and we will make it incredible. The best way to predict the future is to create it, right?" Giovanni says.
Clement and Giovanni are more than chief-something, truth be told. They believe in giving back to the community as a token of gratitude for what life has allowed them to accomplish. Together with Diaa El All, VP of Business Development, they launched a members-only network of luxury-car lovers/entrepreneurs. The profits from the events associated with each gathering (dining, auctions, fundraising, …) are distributed to selected charities.
About CNG Digital
CNG Digital Marketing is a uniquely established agency, but also the beginning of a long entrepreneurship. Some other secret projects will be announced soon and will make the story of the 'bros' even more incredible.
This story is brought to you by Emma Astroth, the very first salaried employee of CNG Digital Marketing, now Inbound Director at SiO Digital and Inbound Strategist for CNG.
"It is an honor to be part of this incredible journey and a joy to work with Clement and Giovanni. We are all growing professionally and personally and becoming better persons and better marketers. What a ride!"
Author: Emma Astroth