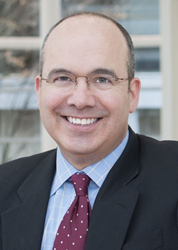 CHICAGO (PRWEB) June 11, 2018
Becker's Hospital Review is pleased to welcome Andrew Rosenberg, MD, CIO of Michigan Medicine, and 255 other talented medical professionals as speakers for its Health IT + Revenue Cycle 2018 Conference, September 19 to 22 at the Hyatt Regency in Chicago.
As CIO of Michigan Medicine, a three hospital system with 125 clinics, Dr. Rosenberg is charged with guiding the strategic vision of secure, reliable, interoperable and cost efficient IT services. As the Health IT Steward for the University of Michigan, he is a tenured associate professor of Anesthesiology, Critical Care and Internal Medicine. Dr. Rosenberg's recent work centers on informatics, specifically the design and implementation of enterprise analytics programs at academic medical centers, as well as integrating largescale enterprise clinical information systems. Hear his keynote presentation, "Targeted Digital Transformation in Healthcare: Lessons Learned from Where Medical 'Rounds' Began," Friday, Sept. 21 at 10:45 a.m.
In addition to serving as executive vice president and CMO of Roanoke, Va.-based Carilion Clinic, Patrice Weiss, MD, is a professor of obstetrics and gynecology at the Virginia Tech Carilion School of Medicine. Dr. Weiss received the first-ever East Stroudsburg (Drexel) University of Pennsylvania's Alumni Association Alumni of the Year Technology Award in October 2017.She has published a number of peer-reviewed articles and contributed to many textbooks. As a invited speaker, Dr. Weiss is regarded as an expert on physician engagement, large clinic employed physician-models, physician recruitment and retention, physician compensation models, and the transformation from volume-based to value-based structures. Hear her keynote presentation Saturday, Sept. 22 at 8:20 a.m.
Becker's thanks its corporate partner, Change Healthcare, for its title sponsor support of this event.
To hear Peyton Manning, Venus Williams and other great keynotes and speakers, join Becker's Hospital Review at its Health IT + Revenue Cycle 2018 Conference September 19-22 by registering here: https://www.regonline.com/registration/Checkin.aspx?EventID=2142099 or contact Jess Cole by email at jcole@beckershealthcare.com or by phone at 312-929-3675
For the complete conference brochure, click here: https://www.beckershospitalreview.com/health-it-revenue-cycle-conference/
About Becker's Hospital Review
Becker's Hospital Review is a monthly publication offering up-to-date business and legal news and analysis relating to hospitals and health systems. Articles are geared toward high-level hospital leaders, and we work to provide valuable information, including hospital and health system news, best practices and legal guidance specifically for these decision-makers. Each issue of Becker's Hospital Review reaches more than 18,000 people, primarily acute care hospital CEOs, CFOs and CIOs.