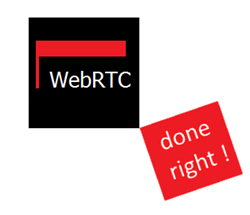 LOS ANGELES (PRWEB) May 18, 2018
Unreal Media Server's WebRTC implementation enables multi-user video conferencing; low latency playback of hardware-originated live streams (IP cameras and encoders) in web browsers on all OS and mobile devices; playback of WebRTC-originated live streams in conventional players and STBs.
Unreal Live Server supports transcoding between H264, VP8, VP9 video codecs and Opus, AAC audio codecs, enabling on-the-fly stream adaptation to/from WebRTC browsers.
New features in Unreal Media Server:

Full support for WebRTC: ability to publish live streams via WebRTC from web browsers to Unreal Media Server; ability to play live streams from Unreal Media Server in HTML5 video element via WebRTC.
Complete re-work of MPEG2-TS receiver: improved startup time and performance.
New type of live rebroadcast: HLS receiver.
New features in Unreal Live Server:

Support for QuickSync and NVidia H264 hardware encoding.
New video codecs support: VP8 and VP9.
New audio codec support: Opus.
Unreal Media Server: http://www.umediaserver.net/umediaserver
Live demos: http://www.umediaserver.net/umediaserver/demos.html
Download: http://www.umediaserver.net/umediaserver/download.html