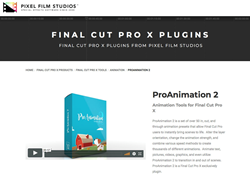 "Bring static scenes and elements to life with this incredible addition to any Final Cut Pro X project!"
ALISO VIEJO, Calif. (PRWEB) May 19, 2018
ProAnimation 2 is a set of over 50 in, out, and through animation presets that allows Final Cut Pro users to instantly bring scenes to life. Alter the layer orientation, change the animation strength, and combine various speed methods to create thousands of different animations. Animate text, pictures, videos, graphics, and even utilize ProAnimation 2 to transition in and out of scenes. ProAnimation 2 is a Final Cut Pro X exclusive plugin.
ProAnimation features over 50 in, out, and through animation presets that allow Final Cut Pro X users to instantly bring stagnant scenes to life. Pick and choose from simple position and rotation presets to dynamic bouncing and whipping motions. Create incredible animations layer by layer with drag and drop ease, all within Final Cut Pro X.
Easily view the animation at a distance and anchor point using the animation guide toggles. With on-screen controls, Final Cut users can easily change the position, rotation, and orientation of the animated layer. Additionally, the anchor point on-screen control allows editors to change the rotation axis of animations.
ProAnimation 2 comes packed with super customizable through animations allow users to instantly add a touch of movement to any layer in Final Cut Pro. Oscillate the X, Y, and Z parameters with a variety of animation curves such as sine, square, and triangle. Or utilize jumping animations to bring life to inanimate vector graphics. The possibilities are endless with ProAnimation 2.
ProAnimation 2 can be used to animate pictures, videos, text, and even transitions. Simply apply an animate in and out preset above the layer to animate out, create a new compound clip, and place the clip above the next scene. ProAnimation 2 will do the rest!
ProAnimation 2 users can utilize pop-up menus to adjust the look of multi-layered animation presets. Pick and choose from up to 6 unique speed methods with varying interpolations. Utilize normal whip speeds for all-purpose animation and crazy whip speeds to for zippier look and feel.
Established in 2006, Aliso Viejo, California-based Pixel Film Studios is an innovative developer of visual effects tools for the post-production and broadcast community. Their products are integrated with popular non-linear editing and compositing products from Apple FCPX. Apple, the Apple logo, Mac OS X, and Macintosh are registered trademarks of Apple Inc. in the U.S. and/or other countries. All other trademarks and trade names are the property of their respective owners.