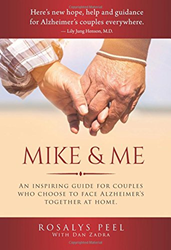 By managing Alzheimer's at home, Mike and I experienced nearly 10 full years of life, love and laughter together.
SEATTLE (PRWEB) May 30, 2018
Every two minutes someone in America is diagnosed with Alzheimer's. Most will face this discouraging illness with their wife, husband or partner at their side. And yet the typical couple has no idea how to make the most of what lies ahead.
Now, a long-awaited book recently released on Amazon.com entitled "Mike & Me" by couples relationship expert Rosalys Peel is changing all that. According to Dr. Glen R. Finney, MD, "Mike & Me gives proof that many couples who are fighting the ravages of dementia can still have years of quality time together. I highly recommend taking not just a page out of this book, but the whole thing."
Here is the back story to the book: When her husband Mike was diagnosed with Alzheimer's, the author made a deal with him. Together, they vowed to manage Alzheimer's in their own home and go right on living life as normally as possible for as long as possible.
Over the next ten years the couple found new ways to defy and surpass virtually all the typical Alzheimer's and dementia statistics. Despite Mike's illness they pursued their dreams, traveled to several countries, helped care for their granddaughter, maintained their romance, kept Mike on his feet, and found new ways to communicate with their friends, family and each other. They also saved many thousands of dollars by caring for Mike in the familiar surroundings of their own home.
Peel, a Registered Nurse and teacher at Seattle's prestigious Swedish Medical Center, said in a statement: "The decision to manage Alzheimer's in your own home can now be a viable consideration for virtually all couples. By managing Alzheimer's at home, Mike and I experienced nearly 10 full years of life, love and laughter together. This book will show other couples and caregivers exactly what we did and how we did it."
Her editor and publisher Dan Zadra added: "We are winning the war on Alzheimer's—it's happening—and one of the most important fronts in the battle is the home front. Mike & Me chronicles the changing face of home care among Alzheimer's couples. It shows how the astonishing power of love, patience, compassion and stay-at-home care can help Alzheimer's and dementia patients defy the usual statistics and live a longer, fuller, happier life despite this discouraging disease."
Photo, reviews & sample chapters: http://www.mikeandmebook.com